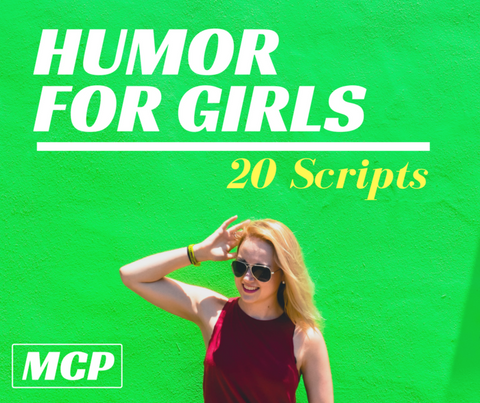 Humor for Girls – 20 Scripts
Need pieces for the funniest young women on your team? Get twenty tournament-ready scripts ideal for performers of all levels. 
From intergalactic adventures to summer camp hi-jinx, high school crushes to twisted fairytales, you'll find stories and characters to fit anyone's comedic talents. All of these scripts can be adapted for Duos and Duets as well! 
Purchase at our incredibly low price and you can download these scripts instantly.
Scripts Included:
KTD's by Elizabeth Bogle
In this outrageous comedy new for 2018, Cassie goes to summer camp and learns about a new kind of disease — Kiss-Transmitted Disease.
Depressed White Girl: World's Worst DI by Brandon Daley
Sick of seeing the same dramatic monologues over and over? Here's all of them packed into one 10-minute comedy. An absolutely hysterical send-up of overly dramatic plays for girls.
Snow White & The Gucci Stiletto by B. L. Houchen
Snow White, the innocent albino princes of The Land of Never Ending, has a tough go of it: her pony is killed by the evil queen, she gets kicked out of her kingdom, and she's abused by her evil stepmother.  Just when things are looking worst, though, she's rescued by Prince Charming.  They quickly become Fairy Tale Weekly's Most Beautiful Couple, until Prince Charming falls in love with Rumpelstiltskin and divorces her.  That's when the adventure really begins! 
Mary Choppins by Frank Joseph
Three bright little English children need a new maid... but they get more than they bargained for when Mary Choppins shows up at their door! Her no-nonsense attitude leaves the kids with scars on the inside and out, and leaves the audience in stitches!
Girls by Jason Chou
In this quick and pointed satire, a desperate male narrator makes his case for the insanity of teenage girls all over the world. Whether obsessing about arm fat or following the latest fad, the rather dense girls in this show have yet to find a stereotype they can't live up to.
Penny and The Adventure of Tickle Me Elmo by JJ Allen
Penny goes through a heck of a lot to get a Tickle Me Elmo - only to find out her doll has a lot of attitude. The two must sass and claw their way to a happy ending. A host of crazy characters join the fun - including Penny's weird relatives.
Sarah's Excellent Adventure with a Glowing Orb by Lawson Powers
A strange glowing orb takes a teenage girl on a wacky adventure through space, time, and comedy. Along the way, she picks up a rather charming Canadian boy named George, and together they meet the Queen of England, a doctor from colonial India, and one very surprised rock star.  A fun piece for a female performer who enjoys characters and quick transitions. 
Everything Under the Sun by Bridget Grace Sheaff 
At an interplanetary meeting, The Sun announces that she needs a vacation. Each of the planets vies for their position as the center of the solar system, with disastrous results. 
Little Suzy Sues God for All He's Worth by Brandon Daley
Little Suzy's cat dies one morning when her mom drives through the wall of the room and her car explodes. Before she has a chance to react - or deal with her crazy dad - a lawyer from the Devil appears and offers to help her sue God. But God has his own representation, and soon Suzy is caught in wacky surreal legal battle between the forces of good and evil, involving her friends and future love life.
The Bo Show by Betty Gerard
Little Bo Peep comes to life as the host of a rowdy daytime talk show. Her guests include Little Miss Muffet, Humpty Dumpty's Widow, and Jack Sprat, all of whom are given special "surprises" by their host. This hilarious parody is filled with entertaining characters and priceless moments.
William Shakespeare's Jersey Shore by Hank Frederick
When Vincenzo hits his head at the club on the Jersey Shore, he wakes up to a very wacky world; all his reality TV co-stars are speaking in Shakespearean language and heroic couplets.
Macaroni on a Hotdog by Sandra Thomas 
Here's the story of a wedding, told through the eyes of some very unique family characters. A hilarious, sweet, and clever play for a performer who loves going the extra mile with their characterizations.
Space Cadets by Brandon Daley
Sarah and Becky fly their own spaceship and make their own rules. But it can get awfully lonely in space sometimes, and that's why, when John & Scott show up in their own ship, dangerously low on Gooby Perkers, the girls decide to let them come onboard. Even though the guys are probably shape-shifting aliens.
Virtually Dateable by Josh Cohen
Will Vicki find a decent guy, or just one jerk after the next? A smart and funny look at online dating.
Moonraker by Marissa Molchansky
Moonraker is, to say the least, an odd high school girl. Armed with a talking diary, she recounts the story of getting the popular boy she loves to kiss her. In the end, she discovers that the popular boy, Jake, was up to no good, and that her best friend Stevie is her true soulmate.
The AnyThing by Hank Frederick
Phones and tablets make it tough enough to connect to the real world - imagine if you had something like that inside your brain!  High school classmates Suzie and Jack have big crushes on each other, but they've also got serious love for their AnyThings, special wireless devices that allow them to post anything they think or see to the internet.  Their date, featuring a sad smart car and several hilarious mishaps, couldn't go more wrong.  Will love triumph anyway?  Spoiler alert: yes it does.
Single White Female by Kaitlin McCoshen
In this dark and moving comedy, Ursula decides that she's not attractive enough to meet someone special, so she uses a stranger's picture in her online dating profile. The scheme goes wrong when her date ends up meeting the stranger whose picture Ursula used - and chaos ensues.
Rhymes with Orange by Lauren Bouchard 
Loving poetry is never a problem, until you become obsessed with rhyming everything.   Now Fay, our rhyming hero, is in danger of losing a job and putting the Orange Julius out of business in her mad quest to find a word that rhymes with orange.
iWant by Mann Hoff
Jessica doesn't want a new iPod. She NEEDS a new iPod. And she'll do anything to get it, including dealing with her psycho-paranoid parents and actually getting a job. Jessica narrates this very funny and accurate play about the perils of high-school consumerism.
Physically Impossible by Josh Cohen
Physically Impossible: The Kiesha Story starts by addressing the age-old question of what happens when a thoughtful, optimistic teenage girl (Kiesha) wakes up to discover that she has mysteriously lost both of her arms. The script follows Kiesha through a week in her life at school following that curious morning, a week in which she has an English paper due, a soccer state championship to play in (as goalie, no less), and the Spring Dance to attend. However, Kiesha's new condition confuses and disturbs those around her, forcing Kiesha to deal with ignorance and discrimination as people overlook her thoughtfulness and optimism in lieu of her limbs (or lack thereof). When all seems lost, Kiesha receives a bit of advice from an unlikely source, renewing her belief in mankind and allowing her to turn her life back around.
Related products