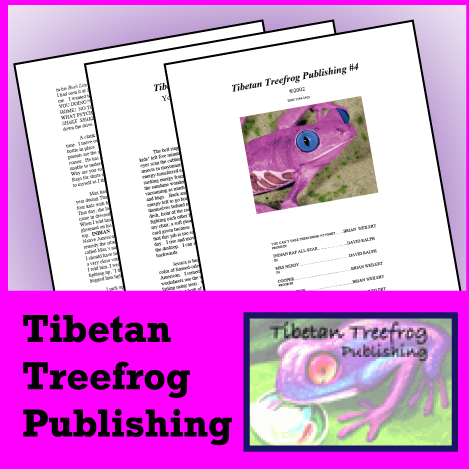 Tibetan Treefrog Publishing: Book Fourteen
By Tibetan Treefrog Publishing
Tibetan Treefrog Publishing was created to specifically produce selections for forensic competition. The editions can contain original Prose, Poetry, Humorous/Dramatic pieces, Duets and even Oral Declamation written by our staff. Each edition contains between five to seven pieces. Our staff is comprised of people who have taught and competed at both the national high school and college level. We know what wins! We also understand the importance of finding new material. By purchasing Tibetan Tree Frog materials you will have that edge. Be the one who brings winning pieces to your team. They will thank you for years to come.

OUR PHILOSOPHY

Our goal in coming together was to create new and competitive pieces for the forensic circuit. Both coaches and students often struggle to find texts that are not overdone. We also understand that many excellent texts are unable to be cut due to various factors. With dwindling budgets, coaches need to maximize their buying power. We strive to write ready to compete, affordable selections. Some cutting may be necessary for specific event guidelines but all our pieces range from 7 to 15 minutes in length. TTF is dedicated to the production of a quality, product that will give our customers a competitive edge. We will not allow a piece to be published that we are not 100% sure can be a winner. Other companies have sprung up over the years mimicking our approach but you will find when it comes to the heart and soul of what makes a company like this work, writing, no one comes close. Our proven track record at local, state and national tournaments is proof that what we are doing, works.

PRINT ISBN: 978-1-61387-101-0
BOOK FOURTEEN

Yellow Hair (Duet):  A reporter captures an interview with General Custer just days before the battle of Little Bighorn.  During the questioning, inflammatory information comes to the forefront, causing a heated exchange where Custer to pushes back at being painted in poor light.   Script is loaded with actual historical facts and direct quotes.
Married to a Mad Woman (Prose/DI):  A man comes to realize his wife's unhappiness is causing her to spiral into depression taking out her frustrations on him.   It comes to a head on Christmas Eve where in the morning his gift to himself is to leave her.
Leaning in to It (Poetry):  A young woman learns a valuable lesson from her father while he coaches her softball team.   The true lesson isn't realized until later on when she is faced with the prospect of fighting breast cancer alone. 
Mock Debate: (Duo/HI):  Through the voices of four young debaters we learn that perhaps debate has gone beyond being understood by anyone outside of the activity.  It hyperbolizes many current practices in an effort to explore the question of whether things have gone too far.
Talking to my Former Self (DI/Prose):  A man is allowed to go back in time to try and stop a tragic school shooting where he was the killer.   The story brings to life the reasoning behind why he committed the horrible act.
Related products