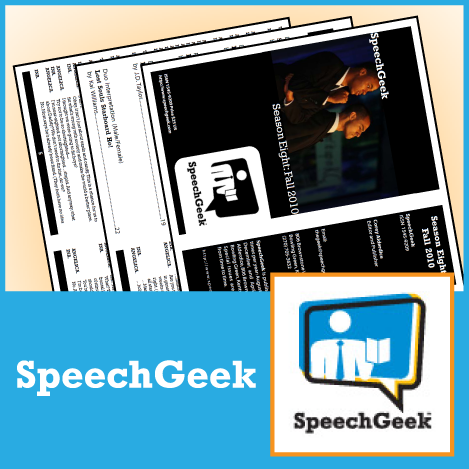 SpeechGeek Season Seven: Nationals 2010
By SpeechGeek
Quality forensics performance material is often difficult to find. SpeechGeek provides high school coaches and competitors with scripts that are not only challenging, but also of strong literary merit. Each issue of SpeechGeek contains five scripts in a variety of events: prose interpretation, poetry interpretation, humorous interpretation, dramatic interpretation, and duo interpretation. SpeechGeek's interp scripts are written by winning authors who know what it takes to make final rounds at all levels of competition.
Senseless by Katherine Raul 
Dramatic Interpretation

Ellie, a middle-aged woman who has been deaf most of her life, begins the selection with a smile. "Some people think it's ridiculous, a deaf woman with an iPhone. But that's just ignorance, and there's no app for that," she explains. A selection that offers the performer an exceptional vocal challenge and additional physical skill by learning American Sign Language to boot, Senseless is the perfect piece for a seasoned performer looking to take things to the next level.

Pinnochia by Natalie Pronk 
Humorous Interpretation

Being a teenager is hard. When you're a papier-mâché puppet made from fashion magazines, well, it's even more difficult. Natalie Pronk returns to SpeechGeek with an outstanding humorous interp script for female performers. Mean Girls meets a fairy tale classic that is sure to wow audiences.

God in a Grilled Cheese Sandwich by Clint Snyder 
Dramatic Interpretation

Alex is a teen that has lost sight of the meaning in life and makes a plan to commit suicide, but at the last second Alex is saved by the idea that he is not the only one looking for something more, an idea that presents itself in the form of a grilled cheese sandwich. A charming contribution from newcomer Clint Snyder.

On My Own Two Feet by Clint Snyder 
Duo Interpretation (Female/Female)

Two sisters try to make sense of what has become of their family is this outstanding duo for two female performers. Jane is strong-willed and tough. She uses jokes or anger as a defense mechanism to cover up her pain over her parents' divorce. Caryn is a sensitive girl with pale features and a genuine curiosity about the world. She tries to find the good in everything and everyone. These confliction personalities are the perfect matchup for an exploration into loss and finding oneself anew.

Psychobabble Cliché Blues by Clint Snyder 
Duo Interpretation

Charlotte, a dignified businesswoman, goes to see a psychologist because of her life-long fear of clowns. The free spirited psychologist, Michelle, agitates Charlotte with her string of cliché psychobabble and ends up revealing that she may be in need of some therapy herself.


Related products