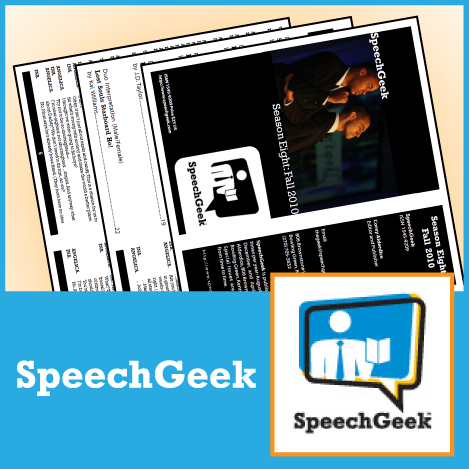 SpeechGeek Season Ten: Anniversary
By SpeechGeek
Quality forensics performance material is often difficult to find. SpeechGeek provides high school coaches and competitors with scripts that are not only challenging, but also of strong literary merit. Each issue of SpeechGeek contains five scripts in a variety of events: prose interpretation, poetry interpretation, humorous interpretation, dramatic interpretation, and duo interpretation. SpeechGeek's interp scripts are written by winning authors who know what it takes to make final rounds at all levels of competition.

We're excited to celebrate our tenth season of publication with this special edition of scripts!
BREATH SOUNDS
Duo Interpretation (Male/Female)
by Jane Nicolaas
"They tell you in med school that your first year as a doctor is the hardest. You learn the most. You lose the most. If you're lucky, you find what you love." For Paige, practicing medicine was a life-long passion. When she meets a charming (though annoying) patient with cystic fibrosis, Paige must decide between professional and following her heart. Jane Nicholaas' tender duo is a must-read for duo pairs with great interpersonal chemistry.

HUMANE
Dramatic Interpretation (Female)
by Sarah Carpenter
"I never understood how the words 'human' and 'humane' could look so similar but be so different." Sharing her home with forty-three cats, Carol is considered by many in small town to be a crazy old cat woman. After a local television reporter alerts animal welfare groups about Carol's home, she is bracing herself for the worst. A heartbreaking tale of cruelty and compassion unfolds as she spends her last final few moments with her feline companions.
HEROES IN A HALF SHELL
Humorous Interpretation
by T. J. Kenda
Are you in the market for a "turtle-y" awesome parody of a famous ninja franchise? We have just what you need! When reporter April O'Neil (Channel Three, Eyewitness News) is kidnapped by the Foot Clan, New York's lean, green teens must come out of their shells to rescue her in this action - and laugh - packed script. If you're someone who loves big characters and intricate blocking, then TJ Kenda's new script is a "pizza" cake.
INFERNO
Dramatic Interpretation (Male)
by Katherine Raul
"Every body tells a story." So begins Katherine Raul's powerful and spell binding monologue from the perspective of a dancer. A rare opportunity to showcase a performer's physicality, the piece shows the transformation from Dan as a lithe ballet dancer to his current state of disfigurement. Through his body, he tells a story of hope, passion, love, and loss.
STAND: THE ROSA PARKS STORY
Dramatic Interpretation (Female)
by Stephanie Spencer
Few names are as synonymous with the Civil Rights Movement as Rosa Parks. While waiting for her bus to arrive, Rosa reflects on a how a childhood steeped in fear inspired her most memorable act of bravery. Mixing humor and heartache, author Stephanie Spencer travels through history to paint an intimate portrait of the courageous woman.
Related products