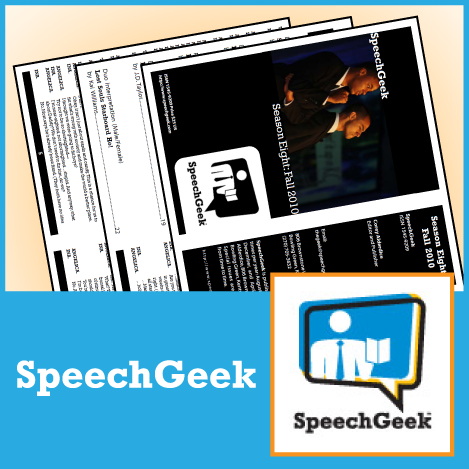 SpeechGeek Season Ten: Fall 2012
By SpeechGeek
Quality forensics performance material is often difficult to find. SpeechGeek provides high school coaches and competitors with scripts that are not only challenging, but also of strong literary merit. Each issue of SpeechGeek contains five scripts in a variety of events: prose interpretation, poetry interpretation, humorous interpretation, dramatic interpretation, and duo interpretation. SpeechGeek's interp scripts are written by winning authors who know what it takes to make final rounds at all levels of competition.
MARVELOUS
Dramatic Interpretation (Male)
by Jane Nicolaas

The sound of an ice cream truck brings back memories of summer fun for most people. For the driver of the truck in MARVELOUS, it's an invitation for the audience to enter his world. Seventeen years of driving his truck through crime-ridden neighborhoods has made him old, tough, and determined to steer juvenile delinquents straight.  MARVELOUS not only allows for the performer to take on a dynamic role, but also illustrates the role narratives play in our lives.

JACK THORNTON: THE BOY WHO BREATHED FIRE
Duo Interpretation
by Jane Nicolaas
Jack Thornton is a normal kid living in New Random-City-Burg. Unfortunately, Jack Thornton doesn't like normal. Normal is boring, and Jack wants a life that is anything but boring. When a mysterious stranger named Doc approaches eight-year-old Jack about a "special super mixture" created in a lab for him, Jack's life becomes anything but normal. Filled with imagination, humor, and a surprise ending, JACK THORNTON: THE BOY WHO BREATHED FIRE is an adventure for both performers and audiences.

ORIGIN STORY
Prose Interpretation
by Julia Neva

Reality television has introduced us to many bizarre individuals. Most recently, hoarders, or individuals who are buried under trash and belongings they are unable to dispose of, have captivated audiences. Viewers watch in shock as television crews document homes that appear nearly unlivable. Rarely do we get a glimpse of how the behavior originated. Perfect for a D.I. or Prose, ORIGIN STORY offers a dramatic and heartbreaking story of how one woman went from wife and mother to obsessive collector.
RETHINKING PINK
Poetry Interpretation Program Builder
by Julia Neva

In 1991, the Susan G. Komen foundation began handing out pink ribbons as an effort to raise awareness about breast cancer. In the 20 years since, amazing advancements in funding and research have saved lives and prevented others from the devastating disease. However, as the disease becomes synonymous with the color pink, opportunists have used the color as a way to promote their products and not cancer patients. Written by the daughter of a breast cancer patient, the series of poems in RETHINKING PINK urges readers and audience members to think critically about how they are contributing in the fight against breast cancer. 

THE YATES TRANSCRIPT
Dramatic Interpretation (Female)
by Erica Mehl
"My name is Andrea Yates.  I am 36 years old. (...) This morning, I killed by children,"  begins the debut piece by newcomer Erica Mehl.  This monologue recounts the events leading up to and fallout from Yates' infamous drowning of her four children--all of whom were under the age of five.

SpeechGeek Season Ten: Fall 2012 PREVIEW
Related products