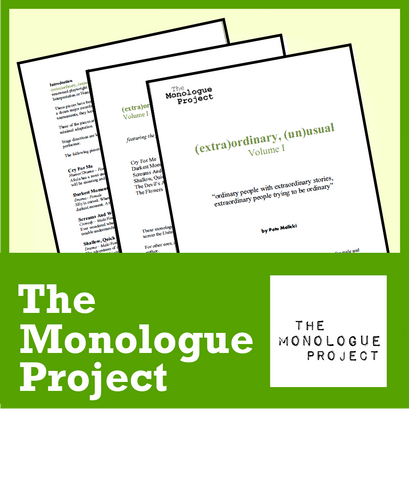 (extra)ordinary, (un)usual Volume 4
(extra)ordinary, (un)usual Volume I is a collection of monologues written by internationally-renowned playwright Pete Malicki. They time in at 10 minutes and are suitable for Dramatic Interpretation or Humorous Interpretation events in forensics competitions.


These pieces have been staged in over 200 productions worldwide and have won more than a dozen major awards. As well as being performed in numerous speech and debate tournaments, they have been staged on the West End and in the Edinburgh Fringe.
Three of the pieces are gender neutral and the other three can easily be changed with minimal adaptation.
Stage directions are kept to an absolute minimum to allow for a broad interpretation by the performer.
ISBN: 978-1-61387-071-6


Feeling Peachy

Humor - Female
Princess Peach of Mario Bros fame is throwing a party. Will she thwart Bowser's latest kidnapping attempt?
Imaginary
Drama - Male/Female
Dan has an imaginary friend, Yancey. When Dan's colleague Jason brings his own imaginary friend in to work to beat up Yancey, things go downhill quickly. A very challenging piece to perform!
My Knight In Dull Armor

Drama - Female
Cara is rescued from domestic violence by her knight in shining armor: her young husband Dale. Dale doesn't want anything to happen to her so he locks the doors bars the windows, and Cara's world starts to shrink…
Quiet Friday

Drama – Male
Gordon's life is filled with noise. Leafblowers, noisy colleagues, babies, TVs, possums, screaming kids. His only saving grace is the one silent morning each week: Quiet Friday. But then the neighbor starts renovating their kitchen and bathroom – every day for a month!
The Happiest Day of My Life

Humor – Female
A wedding day is the happiest day of a girl's life, right? So... what happens when the day's over? Is it all downhill? The story of a young woman's desperate search for happiness.
The Long Game
Drama - Male
Paul is your everyday man. Married with two kids, works in accounting, watches the cricket and loves a good chutney. When he (accidentally) goes to a gay bar and meets Ian, a dangerous obsession starts to grow.
Related products