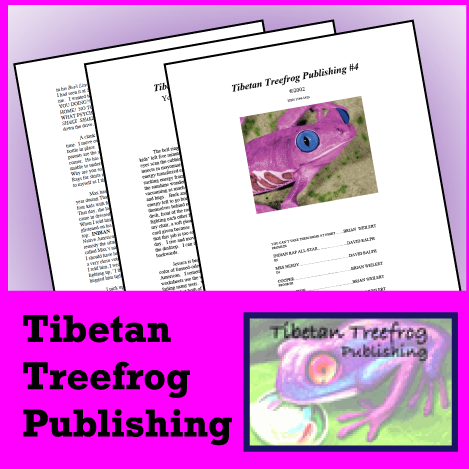 Tibetan Treefrog Publishing: Book Eleven
By Tibetan Treefrog Publishing
Tibetan Treefrog Publishing was created to specifically produce selections for forensic competition. The editions can contain original Prose, Poetry, Humorous/Dramatic pieces, Duets and even Oral Declamation written by our staff. Each edition contains between five to seven pieces. Our staff is comprised of people who have taught and competed at both the national high school and college level. We know what wins! We also understand the importance of finding new material. By purchasing Tibetan Tree Frog materials you will have that edge. Be the one who brings winning pieces to your team. They will thank you for years to come.

OUR PHILOSOPHY

Our goal in coming together was to create new and competitive pieces for the forensic circuit. Both coaches and students often struggle to find texts that are not overdone. We also understand that many excellent texts are unable to be cut due to various factors. With dwindling budgets, coaches need to maximize their buying power. We strive to write ready to compete, affordable selections. Some cutting may be necessary for specific event guidelines but all our pieces range from 7 to 15 minutes in length. TTF is dedicated to the production of a quality, product that will give our customers a competitive edge. We will not allow a piece to be published that we are not 100% sure can be a winner. Other companies have sprung up over the years mimicking our approach but you will find when it comes to the heart and soul of what makes a company like this work, writing, no one comes close. Our proven track record at local, state and national tournaments is proof that what we are doing, works.

PRINT ISBN: 978-1-61387-059-4

BOOK ELEVEN

This edition contains pieces that deal with adult topics and have some strong language.
MY SON IS A POET
Poetry
This slam poem deals with a father looking back at how his son developed into a man that wants to make a living as a poet. He relives the struggles over the years of trying to turn his son into a productive member of society before coming to realize just how special it is that his son is indeed a poet.   There is a nursery rhyme, metaphorical thread cleverly weaved throughout the poem.  
GINGER SNAPS FOREVER
Prose/DI
While attending her mother's funeral, a young woman remembers the time when she first met her future wife as small children. This story deals with the issue of being gay, without the focus of the story being about that topic but rather love…Love of a mother, and love of a partner.
BAD THERAPY
Duo/HI
The setting is the office of a psychiatrist who lacks any skills. The "doctor" attempts to fix the many clients who walk thought the door but fails; revealing that it is he who is in need of therapy. This hilarious romp borders on the insane and is sure to be a fun ride for both the performer and the judge.
PUPPIES, TROUBLE AND TIT-SHOTS
Prose/HI
A man recounts a childhood Christmas story where he played puppies with his brothers, opened a gift early and witnessed his mother boob-flash a camera. The many tangents weaved through out give deeper insight into who this man is and how lucky he feels to have had such loving parents. Funny, real-life moments make this easily relatable to most who hear it.

PECULIAR
Prose
A risk analyst wakes up to find himself handcuffed to the hotel bedpost in the town of Peculiar.   He struggles to gather information about his surrounding and in doing so reveals that his father, who suffers from Alzheimer's, might have something to do with his situation. The story ends abruptly with no real resolution to keep in line with many aspects of the story…that being, it is just peculiar.
Related products