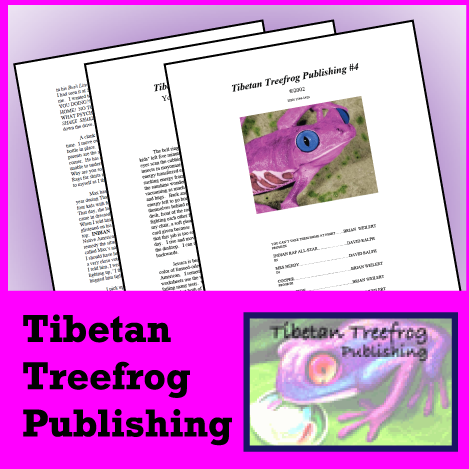 Tibetan Treefrog Publishing: Book Fifteen
By Tibetan Treefrog Publishing
Tibetan Treefrog Publishing was created to specifically produce selections for forensic competition. The editions can contain original Prose, Poetry, Humorous/Dramatic pieces, Duets and even Oral Declamation written by our staff. Each edition contains between five to seven pieces. Our staff is comprised of people who have taught and competed at both the national high school and college level. We know what wins! We also understand the importance of finding new material. By purchasing Tibetan Tree Frog materials you will have that edge. Be the one who brings winning pieces to your team. They will thank you for years to come.

OUR PHILOSOPHY

Our goal in coming together was to create new and competitive pieces for the forensic circuit. Both coaches and students often struggle to find texts that are not overdone. We also understand that many excellent texts are unable to be cut due to various factors. With dwindling budgets, coaches need to maximize their buying power. We strive to write ready to compete, affordable selections. Some cutting may be necessary for specific event guidelines but all our pieces range from 7 to 15 minutes in length. TTF is dedicated to the production of a quality, product that will give our customers a competitive edge. We will not allow a piece to be published that we are not 100% sure can be a winner. Other companies have sprung up over the years mimicking our approach but you will find when it comes to the heart and soul of what makes a company like this work, writing, no one comes close. Our proven track record at local, state and national tournaments is proof that what we are doing, works.

ISBN: 978-1-61387-110-2
BOOK FIFTEEN
BUBpy Love - HI/DUO
Two Harry Potter loving band "geeks" explore the unfamiliar arena of falling in love.  It is soon clear that they are in way over their heads.  Multiple interesting characters leave a lot of room to develop unique interpretations.
The Giant and Mr. Flea  - Prose/DI
A once successful wrestling coach who had lost everything but his life due to alcoholism, is given a second shot at coaching by a former student turned administrator.  The only catch is that the team is at an academy for the blind and deaf, and the team only has two wrestlers.  The three underdogs form a bond leading to a climactic moment at a regional tournament. (Inspired by a true story)  The story is shared at an AA meeting.
Conversation with My Cat - HI/Prose
A young man has more of a roommate-type of relationship with his cat for over a decade.  The story flashes back to some humorous memories before coming back to the present time and taking a turn where he realizes his cat has climbed on him and died.  
Bet You Can't Hit Me with a Dollar - Poetry
A young woman in a hurry to get through the hustle-bustle of a big city as she is late for the first day of her new job.  She is filled with self-pity until her path is obstructed by a young wheelchair bound woman.  She has a sign about her neck that says, "Bet You Can't Hit Me With A Dollar,"  and it gives her pause. In this brief interaction, she is able to refocus on just how lucky she truly is. 
Latent Fetal Memory -  Prose/HI
A man visits a psychiatrist in an effort to try and discover the hidden meaning of a reoccurring dream where he interacts with his twin inside his mother's womb.    He has started to believe that it really occurred and that he may be responsible for the reason he was an only child.
Related products