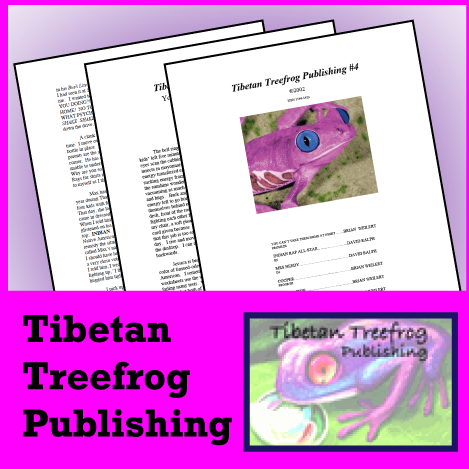 Tibetan Treefrog Publishing: Book Nine
By Tibetan Treefrog Publishing
Tibetan Treefrog Publishing was created to specifically produce selections for forensic competition. The editions can contain original Prose, Poetry, Humorous/Dramatic pieces, Duets and even Oral Declamation written by our staff. Each edition contains between five to seven pieces. Our staff is comprised of people who have taught and competed at both the national high school and college level. We know what wins! We also understand the importance of finding new material. By purchasing Tibetan Tree Frog materials you will have that edge. Be the one who brings winning pieces to your team. They will thank you for years to come.

OUR PHILOSOPHY

Our goal in coming together was to create new and competitive pieces for the forensic circuit. Both coaches and students often struggle to find texts that are not overdone. We also understand that many excellent texts are unable to be cut due to various factors. With dwindling budgets, coaches need to maximize their buying power. We strive to write ready to compete, affordable selections. Some cutting may be necessary for specific event guidelines but all our pieces range from 7 to 15 minutes in length. TTF is dedicated to the production of a quality, product that will give our customers a competitive edge. We will not allow a piece to be published that we are not 100% sure can be a winner. Other companies have sprung up over the years mimicking our approach but you will find when it comes to the heart and soul of what makes a company like this work, writing, no one comes close. Our proven track record at local, state and national tournaments is proof that what we are doing, works.

PRINT ISBN: 978-1-61387-057-0

BOOK NINE

LOST AND FOUND Poetry

This follows a young, African American student who is introduced to his/her black heritage for the first time. This introduction leads to path of self-discovery. Both modern and historical literature blends in to give the poem powerful moments.

A MAN AND A BOY ON A BIKE Poetry

A father is reminded of his obligation of fatherhood when he witnesses the death of a father and son on a bike one wintery morning while driving his son to school. The moments the two shared before their sudden death was so memorable, it causes the man to reexamine his relationship with his own son.

I LOVE ALL OF YOUS Duo

A young couple tries to learn to live with one another. The husband, a struggling actor, uses a variety of voices and personalities to keep things fresh and lively. However, the humor wears thin when a tragedy forces the wife to need him to take thing serious and he is unable to deliver.

FOREVER ALONE Poetry/DI

Poem deals with a young couple who after losing two pregnancies decide to get a puppy to help fill the void. The death of the dog leaves the two destined to believe they will be forever alone.

THE GREAT STRAVINSKY Prose/DI

A group of outcast highschoolers try to get back at other popular kids by publishing inflammatory stories in their secret underground newspaper. When their target becomes an isolated young girl who threatens to reveal their identity, the end is tragic; as front-page story on her being a homosexual pushes her to commit suicide.
Related products