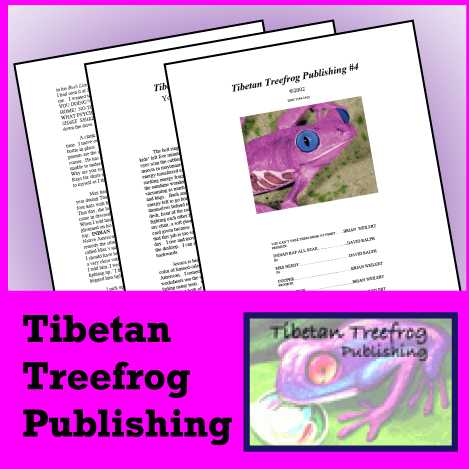 Tibetan Treefrog Publishing: Book Three
By Tibetan Treefrog Publishing
Tibetan Treefrog Publishing was created to specifically produce selections for forensic competition. The editions can contain original Prose, Poetry, Humorous/Dramatic pieces, Duets and even Oral Declamation written by our staff. Each edition contains between five to seven pieces. Our staff is comprised of people who have taught and competed at both the national high school and college level. We know what wins! We also understand the importance of finding new material. By purchasing Tibetan Tree Frog materials you will have that edge. Be the one who brings winning pieces to your team. They will thank you for years to come.

OUR PHILOSOPHY

Our goal in coming together was to create new and competitive pieces for the forensic circuit. Both coaches and students often struggle to find texts that are not overdone. We also understand that many excellent texts are unable to be cut due to various factors. With dwindling budgets, coaches need to maximize their buying power. We strive to write ready to compete, affordable selections. Some cutting may be necessary for specific event guidelines but all our pieces range from 7 to 15 minutes in length. TTF is dedicated to the production of a quality, product that will give our customers a competitive edge. We will not allow a piece to be published that we are not 100% sure can be a winner. Other companies have sprung up over the years mimicking our approach but you will find when it comes to the heart and soul of what makes a company like this work, writing, no one comes close. Our proven track record at local, state and national tournaments is proof that what we are doing, works.
PRINT ISBN: 978-1-61387-052-5

BOOK THREE

WALL FLOWER Duo

A spastic boy and a physically disabled girl, two junior high misfits, come together at a school dance to discover that they may be more than just friends.

PAPA OSCAR DI/Prose

A troubled boy who is working off community service time meets Oscar at a retirement home. The fatherless boy develops a close relationship with the elderly man who teaches him lessons about himself and life. The death of Oscar leaves a life changing impression on the boy.

WORDS Poetry

This poem explores the power of words in both everyday situations and from a historical point of view.

THE GRIM REAPER IS A HOT CHICK Duo

A womanizing man dies. The man sees the Grim Reaper as an attractive woman and tries to pick her up. The reaper decides to teach him a lesson on how to treat women before he is dragged to his eternal home.

HIC SUNT DRACONES DI/ Prose

During an in-class hypnotism demonstration, a young African American girl comes face to face with the repressed memory that her father, an important city official, has been sexually abusive. She must decide what to do with this life altering information.

THE SPOON INCIDENT HI/Prose

A school protest over the failure to change the mascot from the fighting bunnies manifests itself in the abduction of all the cafeteria spoons. The leaders of the spoon-knapping find that they do not have the stomach to follow through with their threats to harm the hostages if their demands are not met.
Related products