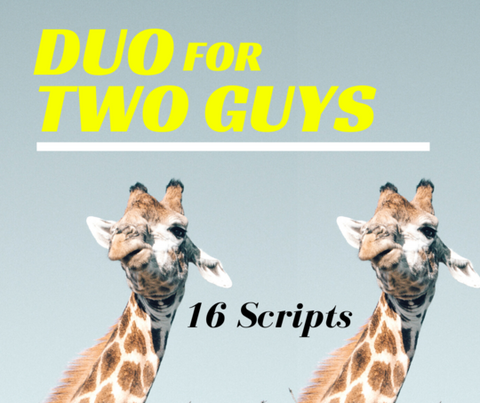 Duo for Two Guys — 16 Scripts
Instantly download 16 of our best scripts for two young men to perform together, at one low price. These scripts are tournament-proven and NSDA approved. 
Scripts Included: 
New! Florida Mae Tuesday's Second 6th Birthday by Frank Smith
[Multi-Character / Two Guys or Guy & Girl]
We're in love with this oddball, zany comedy that's full of brilliant one-liners ready for your most talented Duo or HI performers. Carey is taking his 8-year-old son Phil to his friend Florida Mae's sixth birthday party... again. Except the party turns out to be a chance to set up a variety of women with Carey, whose wife just died, including the birthday girl herself (after she stabs his zombie wife, of course). 
Everyone's Gonna Die by Clyde Hendrickson
In this frantic and hilarious show, a pair of best friends with multiple-personality disorder attempt to reenact the entire Trojan War. High energy laughs and ridiculous historical references are everywhere in this tournament-winning classic selection. 
The Commander by Steve DuBois 
Fabrice is a 12-year-old child soldier struggling to under the command of the brutal Mutabe.  It seems his only friends are death and despair. But Fabrice finds help in a mysterious apparition, the Commander, who guides him in his desperate attempt to break free. A searing, weighty dramatic duo where one performer plays the child, and the other plays both the cruel leader and the kind guide. This piece will leave a deep impression on all those who see it.
Front Porch Chronicles by Sydney Ryan

A lonely old man, Bobby, finds new meaning in life when the kid that lives next door, Sam, starts visiting him on his front porch every day. Sam's imagination and determination are perfect foils to Bobby's stubbornness and wisdom. A heartwarming play that recently won 2nd Place at NFL Nationals.
Luigi and Mario by Ray Nesrym

After years of playing second fiddle to his brother, Luigi is fed up. He wants to beat Bowser and save the princess. But when a tragic accident befalls Mario, Luigi gets his wish – and finds out being the hero is more than he bargained for. An uproarious time for anyone who enjoys video games and/or sibling rivalries.
The Bright Side of Death by Carlos Mayas
 Tristan and Felix are two polar opposite prisoners put together in a cell the day before their executions. With little time to learn about each other, optimistic Felix frustrates pessimistic Tristan with a chillingly humorous exchange of information. This piece is intended to be a duo performed by two males.
 The Lore of the D-Rings by Elijah Sams
Fred O'Gabbins - Freddo for short - finds and ancient D-Ring Binder with test keys for all the tests given at his high school. He is given the task of destroying the Binder and sets off on the quest with a cast of characters while being followed by a student, a rather odd creature named Micheal Kellum, who wants to steal the binder for himself. After a few "dramatic" scenes ripped straight from your favorite fantasy epic, it concludes happily, with Kellum nailing the role of Stanley Kowalski in A Streetcar Named Desire. It's absurd at points, but it's easy to follow, has several fun characters, and it hits all the right marks for this kind of silly satire.

Everything Falls Off by Clyde Hendrickson

A grizzled old man meets his young and chipper new roommate at the leper colony. The two deal with lost appendages, leper etiquette, shock treatment, and their strange, blossoming friendship. Wit and wackiness lie around every corner of this touching sequel to Everyone's Gonna Die.
Everyone's Still Dead by Dudley Rental
In this fan's tribute to Clyde Hendrickson's classic Everyone's Gonna Die, we meet Ben and Tom again, fresh off their Trojan War adventure, and still very bored. This time, they choose to dive into the Revolutionary War, and along the way meet a cast of characters that had absolutely nothing to do with Colonial America but end up fighting the war anyway. A high-energy laugh riot that could have been written by Clyde himself.
Hamilton Sasquatch by Jeffery Longval and Kagan Hatch

What to do when a sasquatch eats your girlfriend? Well, rile up the townspeople and the police, of course. But the mayor is suspiciously hairy, the townspeople seem to like causing trouble more than helping out, so our hero is left to uncover the mystery of the sasquatch on his own. A very, very funny piece with perfectly-timed zingers and great characters. Highly recommended.
The Principals of Drugs by Lawson Powers
Mike, a high school student, decides to experiment with drugs.  Thankfully, his adventure is harmless, but does not go exactly as planned.  He ends up discovering a few interesting things about his school, including the fact that his seemingly uptight principal is capable of enjoying a good time.  Similar to a certain popular 80's movie that has nothing to do with breakfasts or clubs.  Great for a performer who likes to walk the line of outrageous and over-the-top. 
Shrinkage by Andrew Messer

In today's ultra-competitive job market, a great resume, killer smile, and impeccable interviewing skills just aren't enough. John discovers this through a bizarre, horrifying and hilarious job interview he must endure at the hands of a sadistic staff psychologist. If you're trying to get a job and your potential employer asks you to club an old lady, what would you do? Find out in this hysterical new play!
Post Inferno by Spill Major
After their trek through hell, Dante and Virgil stop in a bar outside Purgatory for a stiff drink. They recap their famous journey through the pits, and debate whether they should go on. Both experience a crisis of fate, both are tormented by lost loves, and both ultimately find hope in their own strengths. A smart and witty piece, perfect for performers looking for a script that showcases both their humorous and dramatic sides.
Duck Surgeon by Dudley Rental
Love Handles General Hospital and Mexican Grill is dealing with a medical crises - patients become infected with a plague of stupidity, and the resulting idiocy is putting their lives in danger.  The only person who can deal with this drama?  Dr. Duck, who, along with two trusted interns, gives people back their brainwaves, using one fowl trick after another.  Because Dr. Duck is a real duck.  He's a real doctor, too.  And he's our only hope.
The Altos by Clyde Hendrickson
What if Tony Soprano were only 5' 2", and he had the voice of midget on helium? Meet Tony Alto, who's in that very predicament. Watch as Tony avoids death at the hands of family and celebrities alike. Special guest appearances by Al Capone and lots of ducks.
Overcooked by Paul Owen
Fred and Henry are lifelong enemies. They also happen to be neighbors. In this "final showdown" the two men, with the help of their wives, reach a boiling point and may end of losing the fight... or their lives.  
Related products