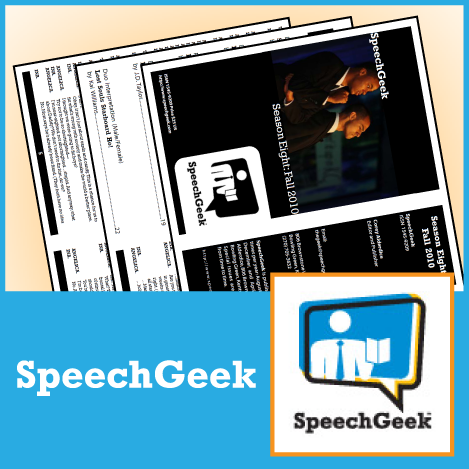 SpeechGeek Season Five (Five Issues)
By SpeechGeek
Includes all five issues from Season Five.
Fall 2007
The Queen of Hearts By Jane Winston
Dramatic Interpretation
Charley is in her forties and works as a card dealer in a casino. In this observational drama she watches as the players at her table—some new and others who frequent the casino—seek out luck and fortune. It's her job to be involved but not too close to the action—a lesson that translates to her life outside of work.

L.gAy.P.D. By Frank Joseph
Humorous Interpretation
Newcomer Frank Joseph delivers a fast-paced comedy that is sure to excite audiences. When beat cop Roger suspects his daughter is dating a boy who is gay, he'll stop at nothing to force Adam out of the closet, though the homophobic cop may end up behind bars in the process.

Coming Up Short: The Seven Dwarves' Monologues By Ellen McKinney and Tracy Cohen
Dramatic Interpretation
McKinney and Cohen combine for a unique take on the often storybook narrative of Snow White. Told from the perspectives of the dwarves who befriended her, the so-called facts you know about her story could be just that. A fulfilling morality play that demonstrates "happily ever after" may be the greatest fiction of all.

The King of Nerd Camp By Corey Alderdice
Prose Interpretation
Alderdice delivers a sincere memoir about his time working with gifted students. With humor and humility, he explores the world of Nerd Camp and the kid who became the king of it all. The endearing prose shows that the awkwardness of one's teenage years never really goes away, but you can grow out of it.

The Life and Times of Morgan Le Faye By Saeed Jones
Poetry Interpretation – Program Builder
Arthurian legends often focus on the masculine characters: Arthur, Lancelot, Merlin, and the like. However, little is said of the mysterious Morgan Le Faye. Jones excels in rich poetics that serve as the foundation of a program on the discussion of the place of female characters in male-driven mythologies.
Winter 2008
The Remarkable Adventure of States the Obvious Girl By James Sweeney
Humorous Interpretation
When there's trouble around Remarkable Man is the hero to call. When he isn't available, you'll have to settle for his daughter States the Obvious Girl. This debut script by James Sweeney is a wild ride through the superhero genre with quips faster than speeding bullets. Can States the Obvious Girl defeat the evil Ambiguous Woman to save the day? Obviously.

Max and Cindy By James Sweeney
Duo Interpretation
From the first time Max and Cindy met each other, they knew a connection existed. Well, not at the very beginning because Max thought Cindy was a gross girl. Sweeney follows the couple through their lives together with endearing and lighthearted reflections. Told in the form of overlapping monologues, this selection can also be used as a HI.

The Godself Series By Bonny McDonald
Poetry Interpretation
Slam poet Bonny McDonald pays tribute the lower order of things by seeing the inherent goodness and power within. This selection of poems contains an energy and passion that is sure to wow audiences.

Argos By Elizabeth McCutcheon
Dramatic Interpretation
Dogs have often been referred to as a man's best friend; however, the same cannot always be said for women. Michael's father always said that people can disappoint you, but a pet never will. When his wife, from whom the story is told, makes a fatal decision, she quickly learns that some things are more irreplaceable than other.

Killing the Love By Saeed Jones
Duo Interpretation
When Stanley Tookie Williams was executed in 2005 for multiple crimes, his death sparked outrage across the country. Once known as the founder of the Crypts but later an advocate for child safety and Nobel Peace Prize candidate, he became an icon for redemption and second chances. As the larger drama of his execution unfolds, a young couple must deal with William's impending execution and the impact this event has on their own relationship.

Spring 2008
Grace by Jodie Anderson
Duo Interpretation
In her short drama, Grace, playwright Jodie Anderson tackles the weighty issues of age and maternity for two female performers. Janice is a 37 year-old woman who is struggling to conceive while Christy is a 17 year-old high school student who discovers that she's got a growing problem to deal with. When the two women meet in a doctor's office, they find themselves in a complicated relationship that challenges who they are and how they want their lives to be.

Firm Foundation by Lillian White
Duo Interpretation
Putting together their lives after the devastation of Hurricane Katrina, Paul and Michelle realize the major repairs that are necessary for their marriage to survive the aftermath. White's thoughtful characters and compelling story make this a great male/female duo.

Tension at Home by Saeed Jones
Poetry Interpretation Program Builder
Author Saeed Jones examines his own family tensions in three poems that make a perfect foundation for a poetry program. Often feeling isolated from the rest of his family and heritage, Jones reflects on his own identity and how he came to be so different from those around him. Program builders allow performers of poetry the opportunity to customize their program by adding additional poetry to make their performance even more unique in competition.

Sleepwalking Home by Saeed Jones
Dramatic Interpretation
Getting away from home to ease both familial and personal burdens, the narrator of this monologue embarks on a journey through the woods and self. While away, he learns the world he once new could be gone forever, though he cannot reach his family to find out for sure. This monologue works well for both dramatic interpretation and solo acting events.

He Looked Like a Mortician by Corey Alderdice
Prose Interpretation
Leslie Lohman has important date to keep to date, she just doesn't know about it. When Death comes calling, Leslie's time is running out. Death, a neurotic and overworked employee of the Boss, senses there's something different about this encounter that may wind up changing Leslie's life for the better. Alderdice combines wit and situation to provide performers with a humorous prose that is sure to please audiences.
Nationals 2008
Mixed Up by Meredith Stein
Prose Interpretation
Growing up in a family of a mixed marriage often presents social and emotional challenges. When the budding relationship between a teenage girl and her best friend Marcus takes a romantic turn, mother neither accepts nor approves of the young couple. This selection suitable for middle and high school competitors explores race, relationships, and the double standards we often create.

Could've Been Worse by Trevor Anders
Prose Interpretation
Everyone's had a bad first date. Turns out that some folks have a lot of them. This quirky selection steers a young man through a bad first date and the ensuing aftermath. The good news is that he has a best friend who lets him know it could have been worse.

Cutting Cords by Trevor Anders
Prose Interpretation
Two brothers separated by an ocean attempt to mend their broken relationship on the elder's wedding day. This selection explores the emotions and experiences that connect twins while showing just how difficult—and sometimes forgiving—siblings can be.

Growing Up Girl by Julia Nava
Poetry Interpretation
It isn't easy growing up as a girl in America. Between trying to make the grade, win the game, and get the friends, girls are faced with an oppressive pressure to achieve perfection. By examining the struggle to be herself, we are able to empathize with what modern girls face on the path to adulthood.

Memory Drive by Michael Hix and Will Schuster
Poetry Interpretation
Human beings are driven by memory--either the need to rely on it for day to day activities or to shape their personal history and identity. So what happens when our memory fails us ("Malfunction") or is incomplete ("Ghosts").
Anniversary 2008
Pinnochiante by Allen Harris
Humorous Interpretation
Everyone knows the story of Pinocchio, right? Author Allen Harris provides a muy caliente spin on a fairy tale classic that provides a modern sensibility with a hint of sarcasm. Okay, more than just a hint.

The Crayon Map by Oliver Leslie and Christopher Marianetti
Dramatic Interpretation
People deal with loss in different ways. Some folks turn to rationalization, while others resort to pure escapism to cope with life and loss. This dramatic interpretation spins out of reality into a fantasy word of possibility that provides hope for Aaron as he deals with the loss of his younger sibling. An exciting selection that combines heart and humor with hope and loss!

Ahidjo by Christopher Marianetti and Cormac Copperhead
Humorous Interpretation
Its often said that given enough time we will eventually become our parents. In the short term, that seems like an impossibility. For Jacub, that impossibility becomes a reality as a magic flower transports him back in time to live the life of his relatives. Through his experiences he becomes more appreciative of the lives of his ancestors and earns a better appreciation of what it takes to be a father and a son.

Rodger Dodger by Lindsey Marquette
Dramatic Interpretation
When most kids want a dog, they beg until their parents give in. Some folks, like Abby, just steal one and hope no one else notices. This delightful script provides a look at the lessons learned from both getting and owning a pet. A great script for middle school students that will charm audiences.

Inspired by a True Story by William Ruff
Dramatic Interpretation
Hollywood has told the tale of Jake, an exceptional young man with a story that has caused millions to fall in love with him. The only problem is that the Jake on screen isn't the person in real life. Even though Jake has a learning disability, he has high hopes for his own success and chance at stardom. When his dream falters, it forces him to examine the differences between the uplifting story on screen and disappointment from missed opportunities.
Related products