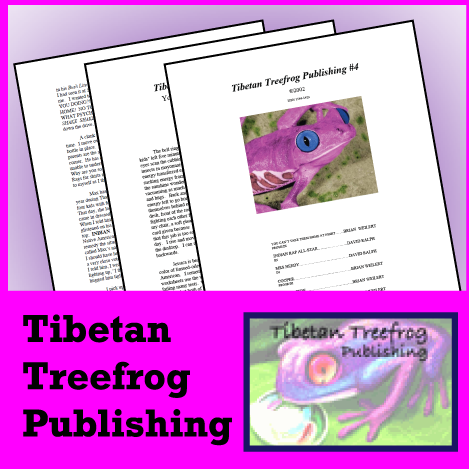 Tibetan Treefrog Publishing: Book Eight
By Tibetan Treefrog Publishing
Tibetan Treefrog Publishing was created to specifically produce selections for forensic competition. The editions can contain original Prose, Poetry, Humorous/Dramatic pieces, Duets and even Oral Declamation written by our staff. Each edition contains between five to seven pieces. Our staff is comprised of people who have taught and competed at both the national high school and college level. We know what wins! We also understand the importance of finding new material. By purchasing Tibetan Tree Frog materials you will have that edge. Be the one who brings winning pieces to your team. They will thank you for years to come.

OUR PHILOSOPHY

Our goal in coming together was to create new and competitive pieces for the forensic circuit. Both coaches and students often struggle to find texts that are not overdone. We also understand that many excellent texts are unable to be cut due to various factors. With dwindling budgets, coaches need to maximize their buying power. We strive to write ready to compete, affordable selections. Some cutting may be necessary for specific event guidelines but all our pieces range from 7 to 15 minutes in length. TTF is dedicated to the production of a quality, product that will give our customers a competitive edge. We will not allow a piece to be published that we are not 100% sure can be a winner. Other companies have sprung up over the years mimicking our approach but you will find when it comes to the heart and soul of what makes a company like this work, writing, no one comes close. Our proven track record at local, state and national tournaments is proof that what we are doing, works.

PRINT ISBN: 978-1-61387-056-3

BOOK EIGHT

LIFESAVER MAN Poetry

The poem is a first person account of a boy growing up in a Catholic school. He becomes extremely paranoid when he mishears a couple of nuns talking, thinking that they are plotting his death.

SUPERMAN DI/Prose

This is the story of a young overweight girl who feels she never has had her father's love. She is convinced he wanted her to be a boy. One night after watching Superman she gets the idea to turn back time and become everything her father wanted her to be. The scheme ends in her untimely death.

LEARNING ALONG THE WAY Duo

The selection follows a male elementary principal and a young boy student over the seven years they are in school together. Each year the relationship deepens as the principal spends time with the boy and bares witness to the obstacles the young man has overcome.

SCARS DI/Prose

With an abusive step-father, young girl turns to cutting herself as an effort to gain control over some aspect of her life. It is a dark look inside of the minds of a people bent on harming themselves. In the end as an escape to art school offers hope for the future.

DUDE, ATTORNEY AT LAW Duo/HI

A young man sues a woman in small claims court for the death of his pet bird. He treats it like a huge jury trial as he goes over the top with the presentation of his case. The judge is pushed to the limits by his antics, leading to many funny moments.
Related products