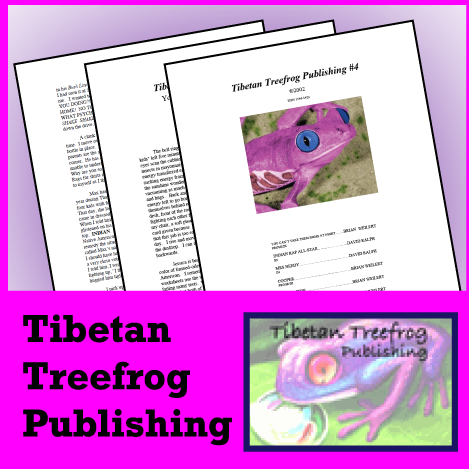 Tibetan Treefrog Publishing: Book Thirteen
By Tibetan Treefrog Publishing
Tibetan Treefrog Publishing was created to specifically produce selections for forensic competition. The editions can contain original Prose, Poetry, Humorous/Dramatic pieces, Duets and even Oral Declamation written by our staff. Each edition contains between five to seven pieces. Our staff is comprised of people who have taught and competed at both the national high school and college level. We know what wins! We also understand the importance of finding new material. By purchasing Tibetan Tree Frog materials you will have that edge. Be the one who brings winning pieces to your team. They will thank you for years to come.

OUR PHILOSOPHY

Our goal in coming together was to create new and competitive pieces for the forensic circuit. Both coaches and students often struggle to find texts that are not overdone. We also understand that many excellent texts are unable to be cut due to various factors. With dwindling budgets, coaches need to maximize their buying power. We strive to write ready to compete, affordable selections. Some cutting may be necessary for specific event guidelines but all our pieces range from 7 to 15 minutes in length. TTF is dedicated to the production of a quality, product that will give our customers a competitive edge. We will not allow a piece to be published that we are not 100% sure can be a winner. Other companies have sprung up over the years mimicking our approach but you will find when it comes to the heart and soul of what makes a company like this work, writing, no one comes close. Our proven track record at local, state and national tournaments is proof that what we are doing, works.

PRINT ISBN: 978-1-61387-088-4

BOOK THIRTEEN

PIGMENTOCRACY
Duet
This play deals with the inequality that exists within each culture based not only on skin color but also subtlety of tone. This takes place at a Southern University during the 1960's and follows two you men as they attempt to go out for the evening. One boy is black but light-skinned and the other is of Jewish decent and darker-skinned.   They face discrimination as they must pass the "paper bag test" to see if they are the right pigment to enter the parties. Some humor as you learn to like the two friends before they face a reality that slams the door.
WHALE 52
Poetry
A older sibling stands aboard a ship in search of Whale 52, a whale that calls at 52 hertz making it unable to be heard by any other whale. Nicknamed, "The loneliest whale in the Ocean" this story is juxtaposed against the story of the man's/woman's younger sister who we discover is deaf.   He/She left home when the girl was just three years old. He/She holds a letter from the parents, with the information that the sister had hung herself at the age of 10.   Parallels in the two stories, whale and sister, reveal why this tragedy happened. This is free form poem with a rhythm and occasional rhyme.
IF THE WORLD WOULD WAIT…I HAVE SOMETHING TO SAY
Poetry
A free form- occasional rhyming poem that explores the frustration of a young man who stutters. At night when dreaming, his affliction disappears freeing him to say everything he wanted to, but did not, throughout the day. Humor is mixed with a message about tolerance and acceptance.
UNRAVELED
Prose/ HI
A veteran teacher meets her match as she substitutes for an elementary school.   What begins as a self-assured woman in control quickly unravels into a woman desperate for help. This class of troublemakers just might land her in the loony bin.
TWO FOR DINNER
Duet/ HI
A young couple invites another neighborhood couple over to dinner. We quickly learn that these cannibals are actually planning on having the neighbors for dinner. As the night progresses we learn that they are not alone in their intentions…as the invited couple has the very same idea. Loaded with humor we discover who finally gets to eat supper and who is the main course.
Related products