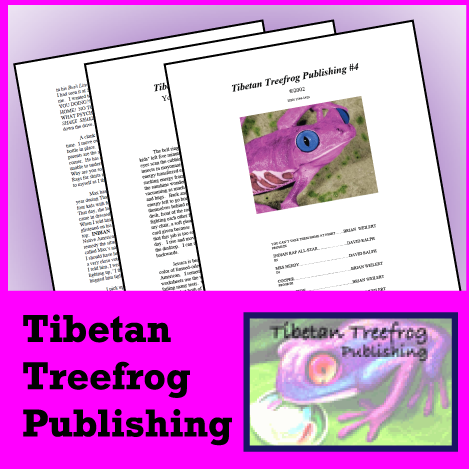 Tibetan Treefrog Publishing: Book Four
By Tibetan Treefrog Publishing
Tibetan Treefrog Publishing was created to specifically produce selections for forensic competition. The editions can contain original Prose, Poetry, Humorous/Dramatic pieces, Duets and even Oral Declamation written by our staff. Each edition contains between five to seven pieces. Our staff is comprised of people who have taught and competed at both the national high school and college level. We know what wins! We also understand the importance of finding new material. By purchasing Tibetan Tree Frog materials you will have that edge. Be the one who brings winning pieces to your team. They will thank you for years to come.

OUR PHILOSOPHY

Our goal in coming together was to create new and competitive pieces for the forensic circuit. Both coaches and students often struggle to find texts that are not overdone. We also understand that many excellent texts are unable to be cut due to various factors. With dwindling budgets, coaches need to maximize their buying power. We strive to write ready to compete, affordable selections. Some cutting may be necessary for specific event guidelines but all our pieces range from 7 to 15 minutes in length. TTF is dedicated to the production of a quality, product that will give our customers a competitive edge. We will not allow a piece to be published that we are not 100% sure can be a winner. Other companies have sprung up over the years mimicking our approach but you will find when it comes to the heart and soul of what makes a company like this work, writing, no one comes close. Our proven track record at local, state and national tournaments is proof that what we are doing, works.

PRINT ISBN: 978-1-61387-051-8

BOOK FOUR

YOU CAN'T TAKE THEM HOME AT NIGHT DI/Prose

A young elementary teacher deals with having the desire to save all his/her students from their bad home-lives. You are introduced to many of the students who will tear at your heart.

INDIAN RAP ALL-STAR HI

This selection works at tearing down stereotypes. Four friends from different ethnic backgrounds talk about wanting to become the next rap sensations.

MRS. NEEDY DI

A childless teacher misuses her students' trust as she abducts one of her students to have as her own. The story unfolds through a series of classrooms and interrogation room scenes.

COOPER Prose/DI

A man in midlife crisis becomes attached to a baby pigmy goat. The unexpected death of the goat has him re-examining the priorities of his life.

SEPARATION Poetry/DI

This follows the life of a woman who was separated from her Siamese twin at birth. In an effort to deal with the guilt of the separation and death of her sister she sets off on a destructive life of tolerating abuse.

JACK IN THE BOX Duo/DI

This selection shows both the outside and inner-self of a man who suffers from cerebral palsy. It allows us to see what is going on inside of a person who is restricted in communication. Very powerful.

PLURALISTIC MIND Poetry/DI

A young boy escapes into video games in an effort to create an alternate world in which his abusive father doesn't exist. The two worlds eventually collide with devastating results.
Related products