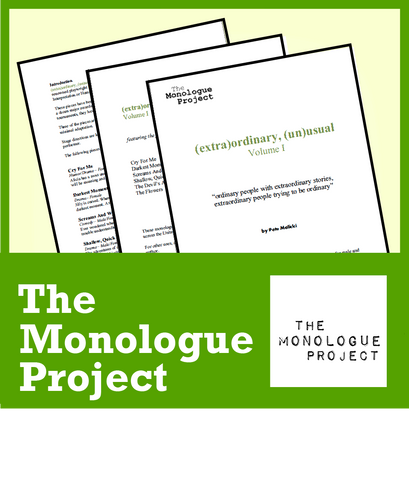 The Monologue Project: Gender Blender
Gender Blender: Monologues For Boys and Girls is the sixth collection of monologues written by internationally-renowned playwright Pete Malicki. They each time in at around 10 minutes and are suitable for Dramatic Interpretation or Humorous Interpretation events in speech and debate or forensics competitions. These pieces are all gender neutral and can thus be performed by males or females.
Malicki's monologues have been staged in over 500 productions worldwide and have won around 20 major awards. As well as being performed in the Nationals of speech and debate tournaments, they have been staged on the West End and in the Edinburgh Fringe.
Stage directions are kept to a minimum to allow for a broad interpretation by the performer. The following pieces are included in Gender Blender: Monologues For Boys and Girls:

Apocalypse Soon
Humor/Drama
I'm not scared of zombies. I don't even believe in zombies. So why do I keep having these nightmares? And how can I make them stop?
Australia – Danger Island
Drama
No one wants to be called soft. A young American from Arkansas braves a trip to Australia, the land of deadly snakes, killer crocodiles, dangerous spiders and the scorching desert sun.
Digging Deep
Humor/Drama
Life is unfair for Kieran Johannsen. Kieran's neighbor Mark Grimshaw inherited a bunch of money from his Great Aunt Edna and used it to buy a Porsche Boxster. Kieran drives a 1996 Ford Fiesta. But all this will change when Kieran befriends a large number of very elderly people who have no one to put in their wills.
Spam For Dummies
Humor
A clueless, bigoted bully works with the best spam authors in the world in an attempt to compose the perfect spam email. But the spammers aren't happy that they're not being paid.
The Story Of Darling Brown
Humor/Drama
Nothing in life has ever gone well for Darling Brown. With a name that no one can take seriously, Darling has been teased and taunted all the way through school and college. Will things ever turn around for this poorly-named person?
Unexpected Turns Of Events
Humor
Crazy spouses, even crazier five year olds, a boy named Edgard and a manipulative new client. Nobody knows what will happen next, least of all Edgard's "Least Favorite Parent."
ISBN: 978-1-61387-106-5
Related products