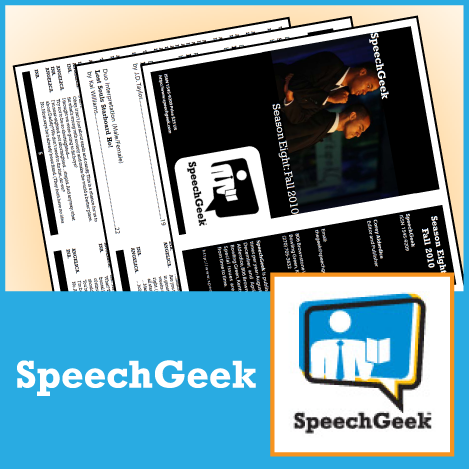 SpeechGeek Season Eleven: Winter 2014
By SpeechGeek
Quality forensics performance material is often difficult to find. SpeechGeek provides high school coaches and competitors with scripts that are not only challenging, but also of strong literary merit. Each issue of SpeechGeek contains five scripts in a variety of events: prose interpretation, poetry interpretation, humorous interpretation, dramatic interpretation, and duo interpretation. SpeechGeek's interp scripts are written by winning authors who know what it takes to make final rounds at all levels of competition.
PIGSKIN
Duo Interpretation (Male/Male)
By Richard Shelton
In 2013, football player Jonathan Martin made national headlines when he came forth about the abuse he experienced from his Miami Dolphins teammate Richie Incognito. As details emerged, many criticized Martin for not being "man enough" to dismiss Incognito's aggression. In the fictionalized PIGSKIN, Richard Shelton takes a closer look at the issues of aggression, masculinity, and competition as they play out on the football field.
CAT AND MOUSE
Dramatic Interpretation (Male or Female)
By Julia Neva
Few rivalries are more iconic than the long-standing animosity between a particular cartoon cat and mouse. For decades, our feline friend has furiously (and wordlessly) chased after the ridiculous rodent to no avail. CAT AND MOUSE imagines what would happen if the long-suffering cat had the opportunity to voice its concerns. Sure to stand out in a round, CAT AND MOUSE is an anthropomorphic adventure that starts out light-hearted before spiraling into a tale of desperation, obsession, and hallucination
THE BEST WORST DATE
Duo Interpretation (Male/Female)
By Paul Owen
Stuart is a struggling actor who likes vegetarian sandwiches and can barely contain his nerves. Janice is an intelligent but "unlucky in love" psychologist who can't turn down a meaty entrée. Needless to say, when the two come together for a blind date the conversation isn't always smooth sailing. Hilarious and charming, THE BEST WORST DATE is a battle of wits between two opposites who are looking for mutual attraction.
THE DRAGON SLAYER OF EASTMAN SENIOR HIGH
Prose (Female)
By Sarah Carpenter
By some accounts, it's a great time to be a nerd. From comic book heroes dominating the box office to socially awkward scientists becoming television icons, geek is seemingly chic. That is unless you're a quirky girl who prefers medieval style to mid-drifts, lives for learning, and loves to write magical fantasy stories that may or may not be based on your classmates. Sarah Carpenter's short story follows the obstacles that accompany letting your nerd flag fly and the rewards that come from embracing your true self.
REFLECTION
Dramatic Interpretation (Male)
By Paul Owen
As a teenager, Randy faces more than his fair share of obstacles. Between his sister tormenting him and feeling isolated at school, the only place he feels comfortable voicing his troubles is in the mirror. When Randy's problems dramatically escalate, it will take more than self-reflection to save him.
SpeechGeek Season Eleven: Winter 14 Preview by SpeechGeek
Related products