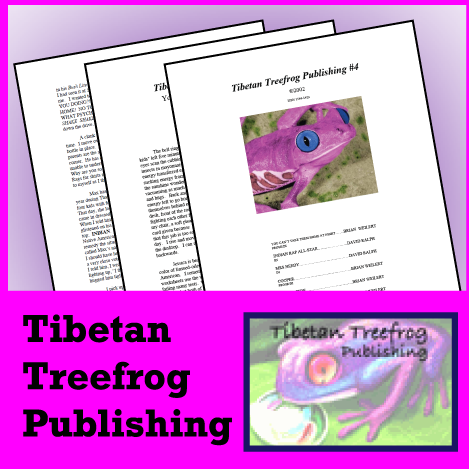 Tibetan Treefrog Publishing: The Total Package!
By Tibetan Treefrog Publishing
Tibetan Treefrog Publishing was created to specifically produce selections for forensic competition. The editions can contain original Prose, Poetry, Humorous/Dramatic pieces, Duets and even Oral Declamation written by our staff. Each edition contains between five to seven pieces. Our staff is comprised of people who have taught and competed at both the national high school and college level. We know what wins! We also understand the importance of finding new material. By purchasing Tibetan Tree Frog materials you will have that edge. Be the one who brings winning pieces to your team. They will thank you for years to come.

OUR PHILOSOPHY

Our goal in coming together was to create new and competitive pieces for the forensic circuit. Both coaches and students often struggle to find texts that are not overdone. We also understand that many excellent texts are unable to be cut due to various factors. With dwindling budgets, coaches need to maximize their buying power. We strive to write ready to compete, affordable selections. Some cutting may be necessary for specific event guidelines but all our pieces range from 7 to 15 minutes in length. TTF is dedicated to the production of a quality, product that will give our customers a competitive edge. We will not allow a piece to be published that we are not 100% sure can be a winner. Other companies have sprung up over the years mimicking our approach but you will find when it comes to the heart and soul of what makes a company like this work, writing, no one comes close. Our proven track record at local, state and national tournaments is proof that what we are doing, works.

CUSTOMER COMMENTS:

My Duo partner and I went all the way to quarterfinals with Evolution of Manford at the CFL national tournament. Thank you. -Nicole R.

Tibetan Treefrog, Just wanted to let you know how excellent your material is. I competed in forensics all through high school and now into college. Your material is just as good, if not better than a lot of the stuff on the college circuit. "If I Could Script a Date," won my partner and I many awards this past year including third place at the National Christian Tournament. I can't wait to use more of your resources! -Christina G.

I really think The Ride is the best prose piece I have ever read. -Jennifer Tilford (coach)

BOOK ONE

LAST FOUR DAYS Poem/DI

A father recounts the uneventful last four days he spent with his son before his sudden death. The poem flashes back and forth from the graveside to detail of each of the proceeding days.

ANDREW GREEN Prose/DI

This story is told by an extremely obese man from his prison cell where he is awaiting his execution. In a journal to the warden he shares the hardships and abuse of growing up fat. It also details why he ended up on death row.

I'M NOT FAT ON THE MOON Poem

This is a first person account of living as an obese man. It details how his family and others treat him due to his size. A mixture of both humor and serious moments delivers the story of what it is like to live in his shoes.

BE YOUR OWN BUGMAN Oral Declamation

This speech was delivered at a high school graduation. The theme is, don't be afraid to create you own destiny. Personal stories with a good mix of humor help deliver the message.

THE CHRISTMAS BOX Prose/ DI

This is the story of a person who grew up poor. During Christmas the family would have one gift, an empty box, and each family member would pass it around and pretend it contained the gift they desired. The story takes a turn when the father, out of shame, commits suicide.

BOOK TWO

A.D.D. DD DDD D Poem

First person account of what it is like growing up with an attention deficit disorder. Takes a look at the creative side of a person being subdued by drugs to treat the "ailment".

THE RIDE Prose/ DI

This is a father's account of a bike ride with his son that goes tragically wrong; a wreck that not only leaves his son severely disabled but also destroys his marriage.

GONE BATTY HI/Duo

Simply put, this is Batman in therapy. He is seeking help for feeling inadequate in comparison to other superheroes. The therapist, an unknown villain, pushes Batman's buttons to the point where he gives up crime fighting.

THE TOLIET PAPER RATION HI/Duo

After a school prank involving the misuse of toilet paper, the administration puts strict usage policies on the contraband. Amy, a student caught in the madness, takes you through hilarious episodes of students' reactions and rebellions.

I'M MEAN TO KIDS HI/Prose

A frustrated teacher realizes that by taking a more aggressive approach toward misbehaviors of students at school, he treats his own children at home much better. As his newfound approach escalates he find himself in the principal's office answering to parents.

BOOK THREE

WALL FLOWER Duo

A spastic boy and a physically disabled girl, two junior high misfits, come together at a school dance to discover that they may be more than just friends.

PAPA OSCAR DI/Prose

A troubled boy who is working off community service time meets Oscar at a retirement home. The fatherless boy develops a close relationship with the elderly man who teaches him lessons about himself and life. The death of Oscar leaves a life changing impression on the boy.

WORDS Poetry

This poem explores the power of words in both everyday situations and from a historical point of view.

THE GRIM REAPER IS A HOT CHICK Duo

A womanizing man dies. The man sees the Grim Reaper as an attractive woman and tries to pick her up. The reaper decides to teach him a lesson on how to treat women before he is dragged to his eternal home.

HIC SUNT DRACONES DI/ Prose

During an in-class hypnotism demonstration, a young African American girl comes face to face with the repressed memory that her father, an important city official, has been sexually abusive. She must decide what to do with this life altering information.

THE SPOON INCIDENT HI/Prose

A school protest over the failure to change the mascot from the fighting bunnies manifests itself in the abduction of all the cafeteria spoons. The leaders of the spoon-knapping find that they do not have the stomach to follow through with their threats to harm the hostages if their demands are not met.

BOOK FOUR

YOU CAN'T TAKE THEM HOME AT NIGHT DI/Prose

A young elementary teacher deals with having the desire to save all his/her students from their bad home-lives. You are introduced to many of the students who will tear at your heart.

INDIAN RAP ALL-STAR HI

This selection works at tearing down stereotypes. Four friends from different ethnic backgrounds talk about wanting to become the next rap sensations.

MRS. NEEDY DI

A childless teacher misuses her students' trust as she abducts one of her students to have as her own. The story unfolds through a series of classrooms and interrogation room scenes.

COOPER Prose/DI

A man in midlife crisis becomes attached to a baby pigmy goat. The unexpected death of the goat has him re-examining the priorities of his life.

SEPARATION Poetry/DI

This follows the life of a woman who was separated from her Siamese twin at birth. In an effort to deal with the guilt of the separation and death of her sister she sets off on a destructive life of tolerating abuse.

JACK IN THE BOX Duo/DI

This selection shows both the outside and inner-self of a man who suffers from cerebral palsy. It allows us to see what is going on inside of a person who is restricted in communication. Very powerful.

PLURALISTIC MIND Poetry/DI

A young boy escapes into video games in an effort to create an alternate world in which his abusive father doesn't exist. The two worlds eventually collide with devastating results.

BOOK FIVE

STICKS AND CARROTS Poetry/DI

A teacher reaches out to engage a troubled boy by involving him in a school play. Through a series of flashbacks we find the teacher and youth had a lot in common. When the boy doesn't show for the play we are reminded that not all stories have happy endings.

EVOLUTION OF MANFORD Duo

The marriage of two sharp-tongued senior citizens seems to be a match made in hell. But through a collection of scenes spanning several decades we realize the depth and strength of their love.

GHETTO BLASTER DI

An African American Kansas City radio personality deals with stereotypes and prejudices. Call-in guests and commercials are used to send the message of tolerance. Humor and tense moments give a good variety to this selection

PLAY THIS AT MY FUNERAL DI/Prose

More than a year after his father's death, a man discovers a video tape his father made to be played at his funeral. The video puts the son face to face with a father with whom he never felt connected. Through the words of his father, he is able to put to rest old demons.

PROMISCUOUS ANKLES Prose

A teenage girl is ripped from the secluded Amish life when her father leaves the community following the death of his wife, her mother. She stands before a mirror prior to her first day of public school trying to come to grips with all that has happened.

BOOK SIX

APPROPRIATE DIET FOR A PET Duo

A parent is left to raise their child alone after the death of their spouse. The child deals with the death by overeating. The parent tries to get through to the child by using the family dog as a go-between. Hard hitting moments are relived with humor as the two learn to get along with just each other.

FRAGMENTS OF A LIFE Prose

A man's sad life is chronicled through his writing on any item he can find on which to write. Each item is specific to an important moment that leads to his downward spiral, ending in his suicide.

5 LESSONS I LEARNED IN MY FIRST YEAR OF TEACHING DI

This is a first year teacher making mistakes and learning from those mistakes. The relationships he develops with his students are the catalysts for his education.

THE BIGGEST FISH I EVER CAUGHT Poetry/DI

A high school student recounts a story of a fishing trip with his grandmother. The story is written after her death and recited at her funeral.

FORENISCATOR FOREVER DI/Prose

A past state champion forensicator revisits the location where he won and talks with the judge on the powerful story that led to his high school success. The story involves his coach making him visit a child with a brain tumor in order to understand the selection and the friendship that develops as a result of that meeting.

BOOK SEVEN

GOODBYE MOM, I LOVE YOU DI/Prose

The author shares with the reader the details around the unexpected death of his mother and the impact her life and death has had on his life.

DRIP Poetry

This selection relays the story of a teacher and the physical and emotional exhaustion that goes with doing the job well. The teacher draws upon childhood memories to help relate and connect with current students.

SURPRISED WE HAVEN'T MET BEFORE Duo

Two schizophrenic patients meet at a doctor's office and through series of personality triggers we get to meet each of their many personalities. The laughs fly as the different characters from each person interact with each other.

DYSLEXIC DAVE DI

The story deals with a young man growing up dyslexic and the hardships he endures due to his learning disability.

CIVIE LIBS Poetry

The poem deals with the current state of America in wake of 9/11. The issues of giving up privacy and certain rights as a trade-off for security are brought to light as a man travels home from vacation and is profiled at the airport.

BOOK EIGHT

LIFESAVER MAN Poetry

The poem is a first person account of a boy growing up in a Catholic school. He becomes extremely paranoid when he mishears a couple of nuns talking, thinking that they are plotting his death.

SUPERMAN DI/Prose

This is the story of a young overweight girl who feels she never has had her father's love. She is convinced he wanted her to be a boy. One night after watching Superman she gets the idea to turn back time and become everything her father wanted her to be. The scheme ends in her untimely death.

LEARNING ALONG THE WAY Duo

The selection follows a male elementary principal and a young boy student over the seven years they are in school together. Each year the relationship deepens as the principal spends time with the boy and bares witness to the obstacles the young man has overcome.

SCARS DI/Prose

With an abusive step-father, young girl turns to cutting herself as an effort to gain control over some aspect of her life. It is a dark look inside of the minds of a people bent on harming themselves. In the end as an escape to art school offers hope for the future.

DUDE, ATTORNEY AT LAW Duo/HI

A young man sues a woman in small claims court for the death of his pet bird. He treats it like a huge jury trial as he goes over the top with the presentation of his case. The judge is pushed to the limits by his antics, leading to many funny moments.

BOOK NINE

LOST AND FOUND Poetry

This follows a young, African American student who is introduced to his/her black heritage for the first time. This introduction leads to path of self-discovery. Both modern and historical literature blends in to give the poem powerful moments.

A MAN AND A BOY ON A BIKE Poetry

A father is reminded of his obligation of fatherhood when he witnesses the death of a father and son on a bike one wintery morning while driving his son to school. The moments the two shared before their sudden death was so memorable, it causes the man to reexamine his relationship with his own son.

I LOVE ALL OF YOUS Duo

A young couple tries to learn to live with one another. The husband, a struggling actor, uses a variety of voices and personalities to keep things fresh and lively. However, the humor wears thin when a tragedy forces the wife to need him to take thing serious and he is unable to deliver.

FOREVER ALONE Poetry/DI

Poem deals with a young couple who after losing two pregnancies decide to get a puppy to help fill the void. The death of the dog leaves the two destined to believe they will be forever alone.

THE GREAT STRAVINSKY Prose/DI

A group of outcast highschoolers try to get back at other popular kids by publishing inflammatory stories in their secret underground newspaper. When their target becomes an isolated young girl who threatens to reveal their identity, the end is tragic; as front-page story on her being a homosexual pushes her to commit suicide.
BOOK TEN

This edition has several pieces that deal with adult topics and have some strong language.

FINGER POEM…………………..………….......LEVI WEILERT

POEM
A poem that plays tributes to the five fingers of the hand and all that they do for us. Some adult language.

TOMMY UNDERMILL……………..…………..….INIS STENO

PROSE/HI
This story take a looks at a high school senior who has used humor throughout his education to defray the taunts from the "popular"
kids. In the end he discovers that the only ones who truly missed out, where the bullies who thought they had it all figured out.

HOME ALONE………………...………..….…BRIAN WEILERT

POEM
This is a sad tale of a man who cannot recover from his depression after a serious injury. One by one his family pulls away until in the
end he is home alone. Some adult language.

LINE IN THE SAND…………………………..…….INIS STENO

PROSE/DI
This is the story of a father trying to deal with having an autistic child. He struggles when he realizes that it won't be a quick fix but
rather a long battle to accept his son as he is. An explosive climactic scene brings him closer to that point. Some adult language.

WASTE NOT WANT NOT……...…....JON MOORE, ZAD SMITH, INIS STENO

POEMS
These three poem collectively examine how much waste takes place in this world. They look at those on both side of an issue that
often is ignored. Some adult language 
BOOK ELEVEN

KID LOVE
Poetry
This is a collection of short poems told from children of various ages on the subject of love…how to define it…get it…keep it….   With each, you will find humor in the naïveté of how they perceive this magical emotion that even as adults we struggle to define.  
GINGER SNAPS FOREVER
Prose/DI
While attending her mother's funeral, a young woman remembers the time when she first met her future wife as small children. This story deals with the issue of being gay, without the focus of the story being about that topic but rather love…Love of a mother, and love of a partner.
BAD THERAPY
Duo/HI
The setting is the office of a psychiatrist who lacks any skills. The "doctor" attempts to fix the many clients who walk thought the door but fails; revealing that it is he who is in need of therapy. This hilarious romp borders on the insane and is sure to be a fun ride for both the performer and the judge.
PUPPIES, TROUBLE AND TIT-SHOTS
Prose/HI
A man recounts a childhood Christmas story where he played puppies with his brothers, opened a gift early and witnessed his mother boob-flash a camera. The many tangents weaved through out give deeper insight into who this man is and how lucky he feels to have had such loving parents. Funny, real-life moments make this easily relatable to most who hear it.

PECULIAR
Prose
A risk analyst wakes up to find himself handcuffed to the hotel bedpost in the town of Peculiar.   He struggles to gather information about his surrounding and in doing so reveals that his father, who suffers from Alzheimer's, might have something to do with his situation. The story ends abruptly with no real resolution to keep in line with many aspects of the story…that being, it is just peculiar.
BOOK TWELVE

MY SON THE POET
Poetry
This slam poem deals with a father looking back at how his son developed into a man that wants to make a living as a poet. He relives the struggles over the years of trying to turn his son into a productive member of society before coming to realize just how special it is that his son is indeed a poet.   There is a nursery rhyme, metaphorical thread cleverly weaved throughout the poem.  
LACK OF EXPERIENCE
Prose/DI
An older sibling struggles to retell the story detailing the circumstances surrounding the death of a younger sister, Experience. The isolation on the farm bonds these two though they are years apart. The story turns tragic when the disappearance of Experience is linked to the older sibling's responsibility bale hay in the meadow for the first time.
MOUTH STRETCHING, BRAIN TUMORS AND BUTT FLEXING
Prose/HI
As a man tries to understand the quirkiness of his own children, he reflects back on a time when he had bizarre little habits that drove his own mother crazy. This story rings true as real life episodes drive the laughs.  
MAN WITH A BROOM
Poetry
Sitting in a library, a person watches as a custodian takes great pride in his work. He/She reaches out to make contact with the man in an effort to validate the work being done. In doing so, he/she is paying homage to his/her own father, a blue collar worker, who died proud but with no accolades. 
CAMP HOMO
Prose/DI
A man revisits the time when he first announced to his family that he was gay at the early age of 10. Crude jokes illustrate the disgust his father expressed at learning about his son. A brutally honest look at a topic that is often written about but often times falls on deaf ears.
BOOK THIRTEEN - NEW FOR 2015-16

PIGMENTOCRACY
Duet
This play deals with the inequality that exists within each culture based not only on skin color but also subtlety of tone. This takes place at a Southern University during the 1960's and follows two you men as they attempt to go out for the evening. One boy is black but light-skinned and the other is of Jewish decent and darker-skinned.   They face discrimination as they must pass the "paper bag test" to see if they are the right pigment to enter the parties. Some humor as you learn to like the two friends before they face a reality that slams the door.
WHALE 52
Poetry
A older sibling stands aboard a ship in search of Whale 52, a whale that calls at 52 hertz making it unable to be heard by any other whale. Nicknamed, "The loneliest whale in the Ocean" this story is juxtaposed against the story of the man's/woman's younger sister who we discover is deaf.   He/She left home when the girl was just three years old. He/She holds a letter from the parents, with the information that the sister had hung herself at the age of 10.   Parallels in the two stories, whale and sister, reveal why this tragedy happened. This is free form poem with a rhythm and occasional rhyme.
IF THE WORLD WOULD WAIT…I HAVE SOMETHING TO SAY
Poetry
A free form- occasional rhyming poem that explores the frustration of a young man who stutters. At night when dreaming, his affliction disappears freeing him to say everything he wanted to, but did not, throughout the day. Humor is mixed with a message about tolerance and acceptance.
UNRAVELED
Prose/ HI
A veteran teacher meets her match as she substitutes for an elementary school.   What begins as a self-assured woman in control quickly unravels into a woman desperate for help. This class of troublemakers just might land her in the loony bin.
TWO FOR DINNER
Duet/ HI
A young couple invites another neighborhood couple over to dinner. We quickly learn that these cannibals are actually planning on having the neighbors for dinner. As the night progresses we learn that they are not alone in their intentions…as the invited couple has the very same idea. Loaded with humor we discover who finally gets to eat supper and who is the main course.
BOOK FOURTEEN
Yellow Hair (Duet):  A reporter captures an interview with General Custer just days before the battle of Little Bighorn.  During the questioning, inflammatory information comes to the forefront, causing a heated exchange where Custer to pushes back at being painted in poor light.   Script is loaded with actual historical facts and direct quotes.
Married to a Mad Woman (Prose/DI):  A man comes to realize his wife's unhappiness is causing her to spiral into depression taking out her frustrations on him.   It comes to a head on Christmas Eve where in the morning his gift to himself is to leave her.
Leaning in to It (Poetry):  A young woman learns a valuable lesson from her father while he coaches her softball team.   The true lesson isn't realized until later on when she is faced with the prospect of fighting breast cancer alone. 
Mock Debate: (Duo/HI):  Through the voices of four young debaters we learn that perhaps debate has gone beyond being understood by anyone outside of the activity.  It hyperbolizes many current practices in an effort to explore the question of whether things have gone too far.
Talking to my Former Self (DI/Prose):  A man is allowed to go back in time to try and stop a tragic school shooting where he was the killer.   The story brings to life the reasoning behind why he committed the horrible act.
BOOK FIFTEEN
BUBpy Love - HI/DUO
Two Harry Potter loving band "geeks" explore the unfamiliar arena of falling in love.  It is soon clear that they are in way over their heads.  Multiple interesting characters leave a lot of room to develop unique interpretations.
The Giant and Mr. Flea  - Prose/DI
A once successful wrestling coach who had lost everything but his life due to alcoholism, is given a second shot at coaching by a former student turned administrator.  The only catch is that the team is at an academy for the blind and deaf, and the team only has two wrestlers.  The three underdogs form a bond leading to a climactic moment at a regional tournament. (Inspired by a true story)  The story is shared at an AA meeting.
Conversation with My Cat - HI/Prose
A young man has more of a roommate-type of relationship with his cat for over a decade.  The story flashes back to some humorous memories before coming back to the present time and taking a turn where he realizes his cat has climbed on him and died.  
Bet You Can't Hit Me with a Dollar - Poetry
A young woman in a hurry to get through the hustle-bustle of a big city as she is late for the first day of her new job.  She is filled with self-pity until her path is obstructed by a young wheelchair bound woman.  She has a sign about her neck that says, "Bet You Can't Hit Me With A Dollar,"  and it gives her pause. In this brief interaction, she is able to refocus on just how lucky she truly is. 
Latent Fetal Memory -  Prose/HI
A man visits a psychiatrist in an effort to try and discover the hidden meaning of a reoccurring dream where he interacts with his twin inside his mother's womb.    He has started to believe that it really occurred and that he may be responsible for the reason he was an only child.
Related products