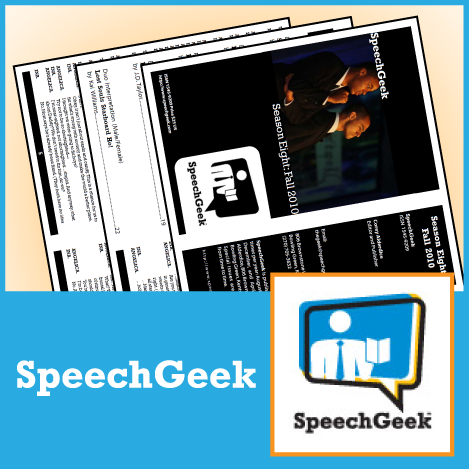 SpeechGeek Presents: Junior, Vol. 5
By SpeechGeek
Quality forensics performance material is often difficult to find. SpeechGeek provides high school coaches and competitors with scripts that are not only challenging, but also of strong literary merit. Each issue of SpeechGeek contains five scripts in a variety of events: prose interpretation, poetry interpretation, humorous interpretation, dramatic interpretation, and duo interpretation. SpeechGeek's interp scripts are written by winning authors who know what it takes to make final rounds at all levels of competition.
This special issue of SpeechGeek material includes five previously unpublished duo interpretation for use in middle school competitions.  Scripts contain content suitable for middle school students and are shorter in length to accomodate National Junior Forensic League rules.
TWO TELEPHONE CONVERSATIONS
Duo Interpretation
by Ross Parker
Two conversations between a father and son, ten years apart, demonstrate how neglecting a parent's emotional responsibilities can lead to the absence of returned affection by a son years later. Inspired by Harry Chapin's song "Cat's in the Cradle".
SITTING ON THE BENCH
Duo Interpretation
by Ross Parker

Stella and Delaney are feeling a bit boxed in…mostly because they are stuck in the player's box during their ice hockey game. While they cheer on their teammates, they talk about the sport, life, and their friendship.
NOT-SO-IDENTICAL TWINS
Duo Interpretation
by Ross Parker

Don't be fooled, just because sisters Sarah and Susannah look alike it doesn't mean they like any of the same things. From athletics to academics, they have totally different interests. It isn't until they switch lives, though, that they are able to appreciate their differences. 
MICHAEL TWO
Duo Interpretation
by Ross Parker

When we meet Michael, he's depressed over losing his best friend. When he receives a puppet to fill the void, things go from bad to…creepy. Is it all just part of his imagination? Or is something more sinister at hand? (No pun intended)
THE TIME TRAVELER VISITS NOAH'S ARK
Duo Interpretation
by Ross Parker

It's the same thing that happens to all of us. One minute, you're working as a student custodian in the physics professor's classroom. The next minute, you're being whisked away to the launching of Noah's Ark. Confusion and hilarity ensue all while trying to straighten out the space-time continuum. 
SpeechGeek Presents: Junior, Vol. 5 -- ISSUE PREVIEW
Related products