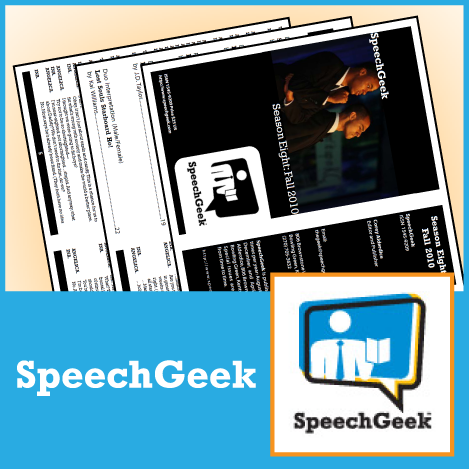 SpeechGeek Season Nine: Fall 2011
By SpeechGeek
Quality forensics performance material is often difficult to find. SpeechGeek provides high school coaches and competitors with scripts that are not only challenging, but also of strong literary merit. Each issue of SpeechGeek contains five scripts in a variety of events: prose interpretation, poetry interpretation, humorous interpretation, dramatic interpretation, and duo interpretation. SpeechGeek's interp scripts are written by winning authors who know what it takes to make final rounds at all levels of competition.
Duo Interpretation (Male/Female)
Finding Wonderland
by Jane Nicolaas
Nicolaas' imaginative reinterpretation of the events that created one of the most beloved children's stories ever.  From flights of fancy to family strife, this selection provides a depth of range sure to challenge any performer.

Duo Interpretation (Male/Male)
Leagues Apart
by Jane Nicolaas
Players in the twentieth century Negro Leagues often dreamed of their chance to play baseball in the big time.  Nicolass offers a portrait of two very different players with a similar dream.  Will they play ball or simply play out?
Duo Interpretation (Female/Female)
Next of Kin
by Jane Nicolaas
A family crisis occurs that brings together two women who should not be in the same room together.  Sarah and Jane both love the same man who is in the midst of life-saving surgery.  One of them is he married to, having left the other for years before.  Both life and love become complex matters in this duo interpretation for two females.
Dramatic Interpretation
Still
by Darlene Auxajas
A disturbed lullaby opens and closes a story of desperation and protection of a child.  Lost in her own reality, a mother must come to terms with the family she wanted and the one she has now lost.
Duo Interpretation (Male/Male)
The Whole Truth and Nothing But
by Christopher Paul Flowers
Daryl has been practicing law for years.  He's the kind of lawyer that feels little concern for truth and justice.  This wacky story of mentorship and hope twists and turns through the world of cheese-ball legal aid commericals while marking the challenges of keeping our principles.
SpeechGeek Season Nine: Fall 2011 Preview
Related products