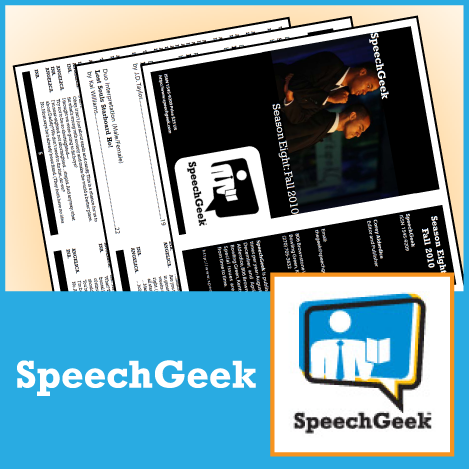 SpeechGeek Season Ten: Winter 2013
By SpeechGeek
Quality forensics performance material is often difficult to find. SpeechGeek provides high school coaches and competitors with scripts that are not only challenging, but also of strong literary merit. Each issue of SpeechGeek contains five scripts in a variety of events: prose interpretation, poetry interpretation, humorous interpretation, dramatic interpretation, and duo interpretation. SpeechGeek's interp scripts are written by winning authors who know what it takes to make final rounds at all levels of competition.
CONTENT
Dramatic Interpreation (Female)
by Wes Tantz
Writers love to tell stories, but not every story is a simple one to tell.  As she invites the audience in, one writer, Marion, uses bizarre and cryptic stories as metaphors for her life. But as Marion crumbles toward a nervous breakdown,  reality proves stranger than fiction as her misery is revealed.
FOREVER AS THE STARS
Dramatic Interpretation (Male)
E. J. Williams 
Nat King Cole's iconic song, Unforgettable, sets the stage for an artist at an easel. The tune transports us back in time as we follow a blossoming romance between a singer and a pianist. When a tragic diagnosis threatens to tear their love apart, the strength of their bond is put to the test.
BRUISE SHIP
Prose Interpretation
by Waylon Brown and Rob Herrick 
Let he who is without a painful experience in high school cast the first diploma. When Tom was in the fifth grade, the school bully, Gabe, punched his face and crushed his heart by stealing his girlfriend. His time in high school wasn't much better. As Tom embarks on his five year high school reunion, he has to learn to face how his past is presently affecting his future.
DIVIDING BY ZERO
Duo Interpretation (Male/Female)
by Sarah Carpenter 
Together, Kate and Jeff look like their marriage has it all: love, laughs, and longevity. The only thing it's missing? A baby, something both of them desperately want. They are over the moon when Kate finds out she's pregnant, but a life altering piece of information reveals hidden truths and threatens to divide the happy couple.
BURNED OUT
Poetry Program Builder
by Julia Neva 
Poet Julia Neva strings together three fascinatingly different poems that all touch on one concept: feeling burned out. In "Minimalist Rut," she strips down details to paint a portrait of how our jam-packed days can wear us out. "The Dancer's Resignation Letter" illustrates the pain of when the body burns out before our desire to use it. A series of burned out teachers spontaneously quitting in "The Great Exodus of Mt. Pleasant High School" reflects on what happens when we don't help out those who are feeling exhausted.
Winter 13 Preview
Related products