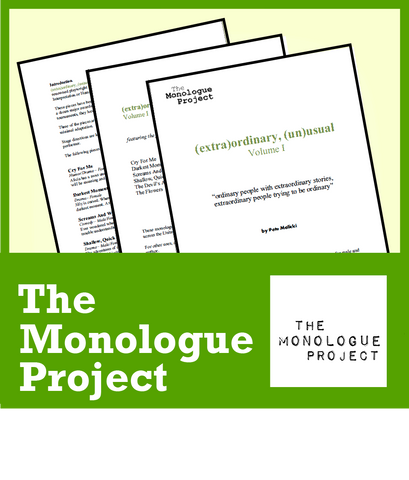 (extra)ordinary, (un)usual Volume 1
(extra)ordinary, (un)usual Volume I is a collection of monologues written by internationally-renowned playwright Pete Malicki. They time in at 10 minutes and are suitable for Dramatic Interpretation or Humorous Interpretation events in forensics competitions.


These pieces have been staged in over 200 productions worldwide and have won more than a dozen major awards. As well as being performed in numerous speech and debate tournaments, they have been staged on the West End and in the Edinburgh Fringe.
Three of the pieces are gender neutral and the other three can easily be changed with minimal adaptation.
Stage directions are kept to an absolute minimum to allow for a broad interpretation by the performer.
ISBN: 978-1-61387-066-2


Humor/Drama – Female
Alicia has a most unusual job – a funeral crier. Once she starts her routine, the congregation will be moaning and weeping in no time. But there are dangers involved.
Darkest Moment 
Drama - Female
Jilly is cursed. Whenever she touches someone for the first time, she becomes them at their darkest moment. A thrilling tale with dramatic twists and turns along the way.
Comedy – Male/Female
Ever wondered what it would be like to talk to animals? Ever thought you might have trouble understanding what they're saying? A comedy for a versatile vocal performer!
Drama – Male/Female
The adventures of a young person suffering from crippling anxiety. Stranger danger, public transport and Lindt dark chocolate.
Drama – Male
The story of a man with an incredible sense of smell and the last day of his freedom.
Comedy – Male/Female
Everyone in Sam's life seems to be going to Heaven in this blacker-than-black comedy. Can the town death magnet grow some flowers?
Related products