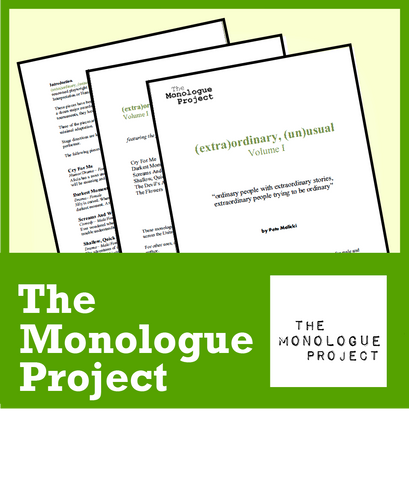 (extra)ordinary, (un)usual Volume 3
(extra)ordinary, (un)usual Volume I is a collection of monologues written by internationally-renowned playwright Pete Malicki. They time in at 10 minutes and are suitable for Dramatic Interpretation or Humorous Interpretation events in forensics competitions.


These pieces have been staged in over 200 productions worldwide and have won more than a dozen major awards. As well as being performed in numerous speech and debate tournaments, they have been staged on the West End and in the Edinburgh Fringe.
Three of the pieces are gender neutral and the other three can easily be changed with minimal adaptation.
Stage directions are kept to an absolute minimum to allow for a broad interpretation by the performer.
ISBN: 978-1-61387-068-6


Disgusted
Drama – Male/Female
A pacifist celebrating mom's dinner at a seafood comes across a woman who would make
anyone's blood boil.
Dragula
Humor - Male
Barry, a plumber from country Australia, discovers a way to make girls want to go with him.
It's Steve Irwin meets Count Dracula.
Filled To Empty

Drama - Male
Junior has so much he might as well have nothing. Will he follow through on a truly horrific
plan to give himself the ultimate rush?
Frenemy

Drama – Female
Chloe doesn't talk any more. Not after the incident. A schoolgirl talks about her relationship
with Chloe and sheds light on why her bestie hasn't said a word in months.
The Rise of Sir Edmund

Humor – Male
Will Sir Edmund Hilary find the perfect word? Join him on his most famous expedition to
find out.
V.D.
Humor – Female
Sophie has been so lonely on Valentine's Day each year since she turned 25 that she's gone
out and bought a cat. She has 10 cats.
Related products