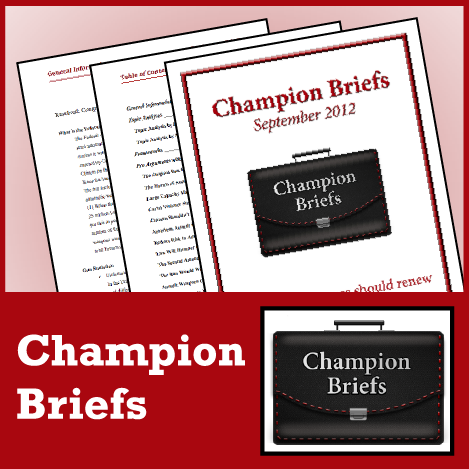 Champion Briefs Policy "Mini-Subscription" September 2014
A one-month subscription to Champion Briefs' Policy Debate Briefs includes politics disads and updates every week along with topic analyses on current events relating to the topic and a myriad of other positions.

Our briefs and politics updates for Policy Debate are fundamentally different than anything else available because of their intuitive structure and high quality of arguments. All of our Policy files are compatible with the Verbatim filing system. In addition to weekly politics updates, Champion Briefs will provide you with analysis of current events relating to the topic. We recognize that there are two "worlds" currently present in Policy Debate: traditional and kritikal. We have created files that can help members of both schools of thought succeed. This means that you may see the occasional kritik or even some cards for a new affirmative present in our briefs. We believe that this structure, rather than random and recycled cards, is the best way to provide the preparatory resources and encourage meaningful debates.
Related products