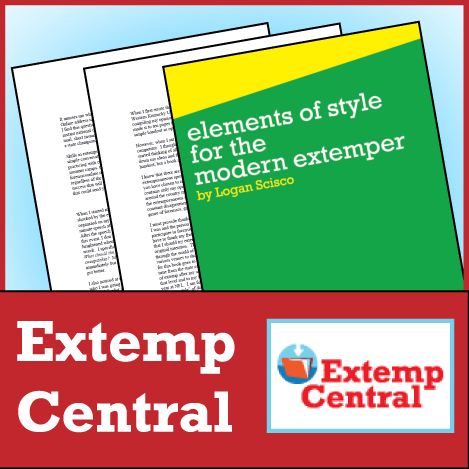 Elements of Style for the Modern Extemper
Elements of Style for the Modern Extemper was written by Logan Scisco in the summer of 2005 and offers advice for beginning and advanced extempers to improve their extemporaneous speaking and analytical skills. Logan uses this book to teach extemp at WKU's summer forensics program in Bowling Green, Kentucky.

This is the second and revised edition of the initial version of the book and it is 107 pages. The book is federally copyrighted.

Elements of Style for the Modern Extemper discusses the following topics:

Chapter 1: Instant Tips for Success

Chapter 2: Introductions

Chapter 3: Point Strategy

Chapter 4: Conclusions

Chapter 5: Delivery

Chapter 6: Answering Different Types of Questions

Chapter 7: Using Sources

Chapter 8: Filing Strategy

Chapter 9: Cross-Examination (CX) Strategy

Chapter 10: Tournament Strategy

Chapter 11: Using Preparation Time Wisely

Chapter 12: Off-Season Strategy

Chapter 13: Extemporaneous Speaking Drills

Chapter 14: Frequently Asked Questions (FAQs)

TESTIMONIALS:

"I can't think of a better way for a competitive extemper to spend $25 than by buying this book! I found it to be wonderfully helpful. Not only did it provide a thorough review of the basics, but it also exposed me to different techniques that I had never learned. Without a doubt, it expanded my abilities. Moreover, Logan's style of extemp has a universal appeal that will help you no matter what circuit you are coming from. In short, buy this book, and you will not be disappointed!" --Ian Panchevre (2008 NFL IX Semi-Finalist, St. Marks & Glenbrooks Extemp Champion, and MBA invitee)

"Elements of Style for the Modern Extemper was an invaluable part of my practice for extemp. Elements of Style outlines the basics better than any manual or piece of literature out there. I read the book for the first time during my junior year of high school, and I learned a tremendous amount about the substructure and the intrinsic worth of the speech itself. This book is a must read for anyone, from a beginner to a seasoned extemper. I couldn't imagine prepping without it." --Omar Qureshi (2008 NFL IX Runner-Up)

"I was first introduced to this book in 2005 when I attended the WKU Summer Forensic Institute. In fact, I was the guinea pig for the teachings found in the book, and I was one of the first practioners of the extemp strategies Logan discusses. Speaking as a competitor with innumerable rounds of experience at the nation's most prestigious tournaments and a background that includes teachings from some of the world's most revered coaches, I readily admit that Elements of Style for the Modern Extemper is an invaluable reference tool. The book's lessons, if followed accordingly, can either serve as the foundation for an up-and-comer or as a refresher for an already proven champion who has 'lost his swing.' Elements of Style for the Modern Extemper is a must-have for extempers everywhere, and I enthusiastically endorse it." -Hunter Kendrick (2008 NFL IX 4th place, CFL National finalist, 2-time Barkley Forum extemp finalist, and 3rd place MBA)

ABOUT THE AUTHOR:

Logan Scisco competed for Danville High School in Danville, Kentucky and was coached by Mr. Steve Meadows. He was a four-time qualifier to National Forensic League (NFL) Nationals in United States extemporaneous speaking and a four-time qualifier to Catholic Forensic League (CFL) Nationals in extemporaneous speaking. He was the 2003 NFL Final Round National Champion in United States Extemporaneous Speaking, placing third overall and placed fourth at CFL Nationals that same year. He was also a two-time Kentucky State Champion in extemporaneous speaking, was a two-time invitee to the Montgomery Bell Extemp Round Robin (placing sixth in 2004), a Barkley Forum finalist in 2004, broke at nationals six consecutive times (one CFL & NFL final, one NFL USX semi-final, two CFL quarter-finals, and one NFL USX octofinal), was an NFL Academic All-American, and attained the level of Premier Distinction in the NFL.

During his two year college career competing for Western Kentucky University, he was a two-time NFA extemp finalist, placing third in 2005 and 2006. He graduated from WKU in 2008 with a degree in history and social studies with secondary teacher certification.

From 2006-2008, Logan was an associate coach for Danville High School's forensic program. Starting for the 2008-2009 season, Logan will be the assistant coach for Grant County High School's forensic program in Dry Ridge, Kentucky.

In the summer, Logan has run the extemp lab at WKU's Summer Forensic Institute in 2005, 2006, and 2008. One of the students he instructed, David Kumbroch, who would go on to win the 2007 NFL International Extemp National Championship.

To date Logan has coached eleven state finalists (8 in extemp), thirteen national qualifiers (6 CFL and 7 NFL; 10 qualifiers in extemp), a Montgomery Bell Extemp Round Robin finalist, a Barkley Forum extemp finalist, three state champions (two in extemp), five CFL extemp outround participants, four NFL outround participants (including a USX semi-finalist), and a CFL and NFL (IX) finalist in extemporaneous speaking.

Logan also sponsors a $150 scholarship given to the Kentucky State Extemporaneous Speaking Champion every year since 2005.