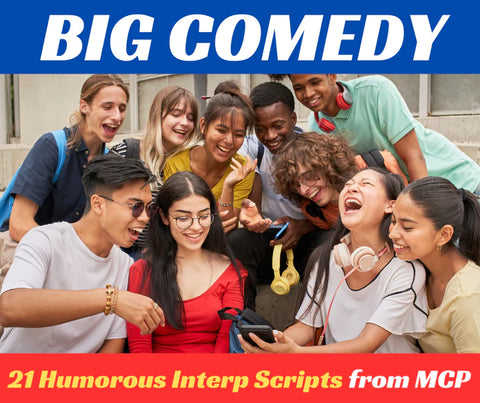 Mushroom Cloud Press: Big Comedy: 21 Humorous Interp Pieces (2023)
We almost called this collection "Wacky Comedies with Lots of Characters" because that's just what it is: A bunch of mad-cap scripts that will have you popping in and out of zany personalities at breakneck speed. Speech kids have the most imaginative minds out there, and it shows in these pieces! 
Download 21 humorous interp pieces and get ready to perform the freshest, funniest, and most side-splitting scripts that will have your audience roaring with laughter and quoting lines long after the round is over.
Includes pieces for male & female performers; you'll find many comedies ready for both solo and duo interp events.
Many of these scripts have appeared in national and state tournament final rounds. Every script is ready to rehearse as soon as you open the file—no cutting necessary.
Don't delay! Make a big impression at your next tournament with this collection of MCP classics.
Play Descriptions 
Mary Choppins by Frank Joseph
Three bright little English children need a new maid... but they get more than they bargained for when Mary Choppins shows up at their door! Her no-nonsense attitude leaves the kids with scars on the inside and out, and leaves the audience in stitches! The children must unravel the mystery of her dreadful appearance before she can carry out her evil plan. Brilliant satire.
Little Suzy Sues God for All He's Worth by Brandon Daley
Little Suzy's cat dies one morning when her mom drives through the wall of the room and her car explodes. Before she has a chance to react - or deal with her crazy dad - a lawyer from the Devil appears and offers to help her sue God. But God has his own representation, and soon Suzy is caught in wacky surreal legal battle between the forces of good and evil, involving her friends and future love life. Of course, Suzy ends up learning a little lesson about the real value of life's rough spots, whether her Dad believes her story or not! An excellent story that rides some great characters and crashes in big, hilarious waves.
Bad Detective by Brandon Daley
Detective Burt Shlackaluggleberginsteinson is racist, homophobic, and very bad at his job as a private investigator.  But his new client, Charlotte, is desperate, and for some reason thinks Burt can help her find out just who the Shaky Arms Man is and what he's done with her missing husband.  Everyone just has to hope that Burt can crack the case before things get too stabby (hint: he won't, and they will).
Fast Food Fairy Tale by Mitchell Whittenhall
NSDA Nationals Finalist
The Kingdom of Drevthru was in peace … until it wasn't. The kingdom was besieged by the Health Nuts, a group of radicals who ate nuts and … other healthy stuff. This is the story of our two noble heroes, Baskin and Robin they, were granted the power of the One Onion Ring to Rule Them All. Journeying across the Kingdom of Drevthru into the land of the Health Nuts …Vegan Ville they must take the One Onion Ring to Rule Them All and drop it into Mountain Dew to conquer the Health Nuts forever. Baskin and Robin learn how bravery, determination, and hard work can lead to incredible things and even save the world… This is a story of friendship, loss, horror, and diabetes.
Black Fedora by Ray Nesrym and Daniel Smedema
NSDA Nationals Winner in HI

When Fettucini Alfredo is murdered, his son, Linguini, comes to Black Fedora, Private Eye, and hires him to look for the killer. Black visits the crime scene, the bar, and mafia leader Tommy Gun in search of the culprit. However the conspiracy runs deeper than Black could ever have imagined. In a world of lies, organ music, and product placement ads, can Black manage to close the case? Or will he end up closing shop instead?
Penny and The Adventure of Tickle Me Elmo by JJ Allen
Penny goes through a heck of a lot to get a Tickle Me Elmo - only to find out her doll has a lot of attitude. The two must sass and claw their way to a happy ending. A host of crazy characters join the fun - including Penny's weird relatives.
Moonraker by Marissa Molchansky
Moonraker is, to say the least, an odd high school girl. Armed with a talking diary, she recounts the story of getting the popular boy she loves to kiss her. In the end, she discovers that the popular boy, Jake, was up to no good, and that her best friend Stevie is her true soulmate.
The AnyThing by Hank Frederick
Phones and tablets make it tough enough to connect to the real world - imagine if you had something like that inside your brain!  High school classmates Suzie and Jack have big crushes on each other, but they've also got serious love for their AnyThings, special wireless devices that allow them to post anything they think or see to the internet.  Their date, featuring a sad smart car and several hilarious mishaps, couldn't go more wrong.  Will love triumph anyway?  Spoiler alert: yes it does.  Another smashing comedy from this fresh new voice.   Great for male or female performers, and makes a great guy/girl duo. 
Sarah's Excellent Adventure with a Glowing Orb by Lawson Powers
A strange glowing orb takes a teenage girl on a wacky adventure through space, time, and comedy. Along the way, she picks up a rather charming Canadian boy named George, and together they meet the Queen of England, a doctor from colonial India, and one very surprised rock star.  A fun piece for a female performer who enjoys characters and quick transitions. 
The City Morgue's 2nd Annual Take Your Daughter to Work Day by Brandon Daley
How does a corrupt boss at the city morgue get away with kidnapping a young girl at the park? He pretends she's his daughter! But since he is even more incompetent at his crime than he is at his job, his scheme is hilariously unraveled by his strange coworkers, their unfortunate daughters and the police. Now if only they could find a way to get rid of "Shirtless Thursdays"...
Investigator Q by J. J. Allen
Who killed the president's favorite cat, Mr. Whiskers? Investigator Q must navigate conspiracies and idiocy alike to find the answer to this question that no one really cares about… except the commander in chief. After consulting with members of the presidential scandal hall of fame – including Deep Throat and Monica Lewinksy – Investigator Q stumbles upon an answer that will shock the world… if he can get them to pay attention.
Jerry: Wizarding-School Dropout by Brandon Daley
Why is Jerry failing Wizarding school? Well, for one, he's been turning the water in the locker rooms into monkey vomit for eleven straight years. Eventually, he drops out and becomes a magic school bus driver. But when disaster strikes, he'll have to save his annoying little wizard kids with the thing he hates the most: magic. A hilarious satire of popular wizarding books and high school alike.
Kid in Control by Josh Cohen
Young Billiam is tired of following his parent's rules, like being forced to give the cat suppositories every day. But when a mysterious man appears offering him a device to let Billiam control his parents, is he saved, or will things only get crazier?
Ridgeville Elementary School's Extremely Talinted Show by Matthew Yasuoka
Principal Homer barely keeps things together at his school, although it's not entirely clear if he cares. There's nothing more here than a talent show full of extremely weird, obnoxious, and crazy kids, from rappers and Richard Nixon puppeteers to time travelers and a kid whose talent is making shapes with his fat. When the kids' parents get in on the action, it's all the wacky Principal can do to keep the whole show together. An amazing piece for performers who love interpreting lots of characters - and we mean lots, close to two dozens - and want to show off their skills. Don't miss a performance of this one!
William Shakespeare's Jersey Shore by Hank Frederick
When Vincenzo hits his head at the club on the Jersey Shore, he wakes up to a very wacky world; all his reality TV co-stars are speaking in Shakespearean language and heroic couplets. In this outrageous scene, filled with both the classic mix-ups and madness of a Shakespearean comedy and the unbelievable silliness of the Jersey Shore, Vincenzo meets his companions anew - including Snookery and The Circumstance - and must try to survive a perilous walk home back to their summer pad, with many obstacles and much melodrama along the way. You'll be surprised how well the bard's tricks fit these fools.
Everything Under the Sun by Bridget Grace Sheaff
At an interplanetary meeting, The Sun announces that she needs a vacation. Each of the planets vies for their position as the center of the solar system, with disastrous results. In the end, after a rally of appreciation, The Sun decides to stay. A fast-paced and smart comedy with ten terrific characters. 
Hot Dog Time Machine by Alan McGuire
Josh reaches into the freezer and finds frozen hot dogs that allow him to travel through time to meet several extremely strange characters including a boy with chainsaw hands in order to better understand that the life he has is probably pretty darn good for a teenage boy.  Then his... wife? tries to eat him.  It's as fun and crazy as it sounds.
Audacity of Nope by Josh Cohen

John's spent his whole life being agreeable and easy-going, and found it's led to nothing but people running over him and taking advantage of him. So he decides to never say yes to anything again... which leads him to discover that "no" causes a lot more trouble than he thought it would.
B*tman & R*bin by Olaf Oggleson

It's the worst action movie of our time. A corny Batman teams with the insufferable Robin and the smarmy Batgirl to fight the idiotic Dr. Freeze and the vapid Poison Ivy. Terrible puns and lame plot twists abound, leading to the painful, R. Kelly-soundtracked finale. A masterwork of cutting - you get the entire awfulness of this crapstorm in 10 minutes.
The Council of Doom by Taylor Shann
Do you have what it takes to conquer the world? Are you ready to trade the lives of the innocent for your own gain? Are you a giant talking cucumber? If you answered yes to any of the above questions, then you're perfect for The Council of Doom. Join the Prof, El Tyrant del Mar, She-Ho, and more as they laugh, kill, and sing their way to super-villainy.
Ho Ho Ho! by Taylor Shann
Adam, Timothy, and Jose all play Santa Claus.  And, for different reasons, they all regret this decision. A fast-paced suburban satire positively alight with holiday zingers. 
Related products