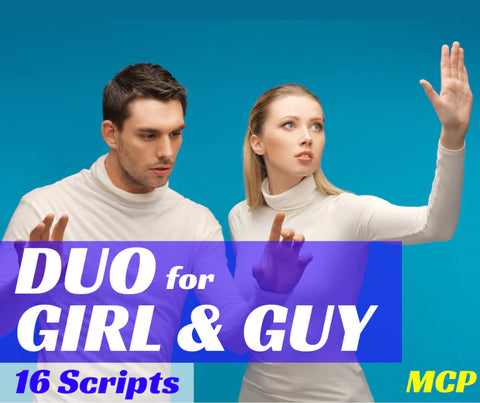 Mushroom Cloud Press: Duo for Girl & Guy – 16 Scripts (2023)
Instantly download 16 of our best scripts for young men & women to perform together, at one low price. These scripts are tournament-proven and NSDA approved. 
Scripts Included: 
NEW! It's an Emergency! by Lisa Ridarelli
Two-Character Duo
After several months, Paloma finally feels she is starting to get over her ex, Sergio, who left her just weeks before their wedding. The last person she wants ringing her doorbell is Sergio, suddenly determined to win her back. Through a series of disguises and ruses, Sergio talks her into letting him in, but getting into her good graces again will take quite a bit more. This anti-romantic comedy pits two clever characters against each other in a delightful duel of hearts and wit.
NEW! Shakespeare in Like  by Shawn LaSota
Two-Character Duo
William Shakespeare tries make his lady swoon by reciting his new sonnet to her. Unfortunately, the beautiful truth does not turn out to be as flattering as intended, and this particular mistress does not mince words with her dissatisfaction. Willy has to dig out some old classics in order to win her heart, for a moment at least. A silly and satisfying duo that would be ideal for new competitors or Shakespeare fans. 
NEW! The Next Table by Bridget Grace Sheaff
Two-Person MF Duo, Humorous Interp
Erica and Toby are not at this restaurant together. She's eating alone, and he's waiting for a blind date that maybe stood him up. Nevertheless, they can't help from starting a conversation… and maybe more. In this flirty, sitcom-style romantic(?) comedy, we find two characters who want to get to know each other but aren't sure if they should. The final moment has a striking ambiguity that will have audiences debating what was really going on. A nice duo for two performers who really click.
Tutoring Session by Ellie Lynch

Male / Female Two-Character Duo or Humorous Interp
It's a classic story. A nerdy girl tutors the football jock she has a crush on, then they fall hopelessly in love! Except, in this case, poor Eunice doesn't get Frank the jock at all, thanks to a clever twist at the end. Quick dialogue and likeable characters make this a duo that will shine for performers with a great rapport.
Not For Sale by Blair Waite

[Two Characters / Girl & Guy]
A woman is sitting in a park waiting to meet a man she has been talking to online when a man approaches her with a bucket of roses.  After some confusion of whether or not the roses are for sale, the man keeps the woman company and calms her down while she awaits the possible man of her dreams. A charming and uplifting piece whose characters give students much to explore.
Exit Interview by Bridget Grace Sheaff
[Two Character / Girl & Guy]
Brandon has decided to leave the company, and Nicole is conducting his exit interview... except, as the formalities crumble, we realize that the "company" is a relationship, and both parties are hoping for understanding on the way out. This two-character duo has funny twists and moving turns that lead to an ending we hope is good for both characters.
Playdate by Scott Haan 
Like all children, 4-year-olds Cassie and Benjamin like to play grown-up from time to time, but these two new friends have very different views of adulthood. As they play together, both as children and as pretend-adults, they learn some secrets about life, parenthood, and the circumstances that have brought them together for their very first playdate. As clever as it is cute, this script gives performers the rare opportunity to showcase both their skills with characters and depth as actors.
Face Baggage by Nick Monroy
What if Facebook took place as a real life interaction? What if you walked in a room and a stranger started demanding all your life's most intimate details? In this oddly accurate and devastatingly funny play, that's exactly what happens to Danny. He has to sign up for Facebook in real life. His interviewer, Nikki, interprets his most harmless remarks like "it's complicated" into online gossip. And once the poking and the zombie attacks start, things get very weird, very fast. Don't miss this killer 2-person play, perfect for forensics.
Buds with Spuds by Frank Cernik

The Potato: boring root or world's most exciting superstar? This hilarious tour through the history of the potato takes us to the unknown corners of the spudding world, including Columbus first introducing the root to Native Americans, Steve Irwin's clash with wild potatoes in Idaho, a strange potato-worshipping cult, and even a battlefield of mashed and baked tubers. It's the type of witty, self-defacing humor that's perfect for a savvy forensics competitor.
Countdown to Love by Andrew Messer
Speed dating is always a recipe for disaster. But when John plunges into Super Speed Dating, he meets an array of crazies, con-artists and maniacs that could make anyone's head spin. After going through a dozen girls in eight minutes, is he left with anything but a sense of despair? Find out in this breakneck-paced comic scorcher. 
THE GR8 TXT MSG WAR by Hank Frederick
Hilarious, and totally unique: performers will have a blast speaking and acting in the language of text messages. A weeknight conversation between two high-schoolers (Girl & Guy), conducted completely over text message. The plot is basic: Girl is mad at guy for stupid joke, guy makes up for it. But with the added bonus of strange text abbreviations, spelled-out smiley faces, and of course some out-there autocorrect mistakes, the conversation becomes a rollercoaster of confusion and melodrama. One of our best new comedies.
The Assistant by Don Trickseven
Ripped from the headlines, this duo follows one night that will change the lives of a young married couple, as well as the fate of an entire university. Drew, an up-and-coming assistant basketball coach, comes home to tell his wife Mel that he saw the revered head coach of the team in a compromising position with a female student. Now the two must weigh all the good they have seen the coach do versus what they think they have to do in order to protect the students, and in the process traverse all the unseen fault lines of their own relationship and histories. Maddening, heartbreaking, and moving, this dialogue will have everyone in the audience riveted.
STOP! by Ray Nesrym
A Driver's License: the ultimate prize for teenagers. Only one thing stands between this kid and his motorized freedom: his mom. In a scene all-to-familiar to many children and parents, this mother is determined to teach her child exactly how to drive safe, even if it means they both have a nervous breakdown in the process. A cringe-worthy laugh-fest that will have contestants and judges alike nodding their heads in recognition.
Minnesota by Spill Major
When a young woman boards a flight from New York City back home to Minnesota, she's just hoping it passes as quickly as possible. It's soon apparent that won't happen when she sits down next to Former President Grover Cleveland, who seems confused about exactly where he is, what he's doing, and who the President is on the dime. Also, he might just be a guy named Steve, although he'll never quite admit it. Although the two are from very different eras, which they thoroughly debate the merits of, they come to an understanding of each other over the course of their brief time together, in a charming and curious two person scene.
4-0 by Taylor Shann
A strong and fast-paced comedy for male or female performers. Jack's company's charity softball team is undefeated, mostly thanks to his outrageous tactics and merciless taunting of other hapless teams. Now, his boss Helen is sick of covering for his antics, and decides to fire him. In order to save his job, Jack will have to do the one thing he can't stand: lose.
Child's Play by Alyssa Zaczek
Ryan Richards is stuck. He's stuck in a humdrum marriage that's on the rocks and a dead-end job managing the toy store he thought he'd be owner of by now. In short, his life is average, until his former summer camp fling and first love Jessica Monroe drops in on him at work - and ends up with a job. Over the course of a single evening, Jessica turns Ryan's life upside down, and forces him to question whether or not his life is all he hoped it would be. But is Jessica hiding a tragic secret that may explain her whirlwind appearance in Ryan's world? Through a conversation that will change two lives, both Ryan and Jessica learn that love and life are not games that are meant for children.
Related products