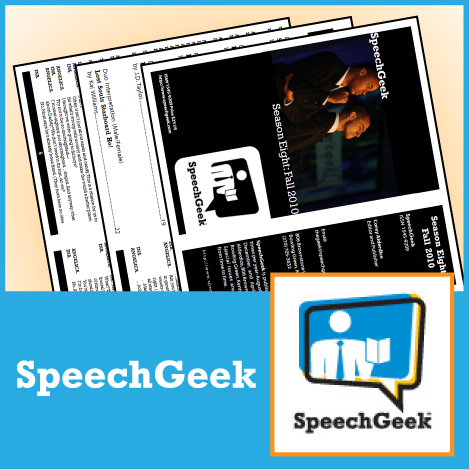 Female/Female Duos -- Girl Power Pack!
By SpeechGeek
GET ALL FOUR OF OUR FEMALE/FEMALE DUO ISSUES FOR AN UNBEATABLE PRICE!

Quality forensics performance material is often difficult to find. SpeechGeek provides high school coaches and competitors with scripts that are not only challenging, but also of strong literary merit. Each issue of SpeechGeek contains five scripts in a variety of events: prose interpretation, poetry interpretation, humorous interpretation, dramatic interpretation, and duo interpretation. SpeechGeek's interp scripts are written by winning authors who know what it takes to make final rounds at all levels of competition. This special issues covers the script request that we receive most often: duos for two female competitors. This mix of humorous and dramatic scripts is sure to wow audiences.
SpeechGeek Presents: Female/Female Duos, Vol. 1
978-1-61387-029-7
SpeechGeek Presents: Female/Female Duos, Vol. 2
978-1-61387-032-7
SpeechGeek Presents: Female/Female Duos, Vol. 3
978-1-61387-033-4
SpeechGeek Presents: Female/Female Duos, Vol. 4
ISBN: 978-1-61387-047-1
SpeechGeek Presents: Female/Female Duos, Vol. 5 (New for Fall 2015)
ISBN: 978-1-61387-076-1
THE GIRL POWER PACK INCLUDES:
Force of Habit by Julia Neva

Duo Interpretation

Sister Mary Mercy loves the Lord and is tough on crime. When a group of teenage girls go missing, this butt-kicking nun and her trusty side-kick get to the bottom of the case in this hilarious duo. What secrets lie within the mysterious "MTV Real Girl House"? How many miles per gallon does the Honda Prayus get? What are these blogs that are so popular among tweens? All these questions and more will be answered by a heroine who doesn't turn the other cheek!

Digging Too Deep by Doug McConnaha

Duo Interpretation

Cathy has been waiting for years to confront the person she believes is responsible for the death of her mother. Now a college student, she enrolls in the class of a psychology professor who was unable to provide her mother with psychological treatment. Will she get her revenge, or is this meeting part of a bigger plan? This duo with a surprise ending shows two strong female characters in a battle of wits for control. 
Letters from Home by Christine Howard

Duo Interpretation

Christine and Melissa both have loved one away at war. Christine's brother Mike was recently killed during an attack. She quickly becomes friends with Melissa, who provides moral support. Joy and loss is combined as Melissa learns she and her husband have a baby on the war. This stirring selection reflects on the cost of war, the ties that bind, and that life and love can spring from loss.

Nightmares by Doug McConnaha

Duo Interpretation

An innocent sleepover turns into a nightmare in this unique duo. Two teenage girls begin what should be an ordinary Saturday evening. The situation quickly changes as they find themselves in peril. Is it just their imagination, or is this terror real?

Metamorph by Julia Neva

Duo Interpretation

Elizabeth is just like every other teenager, except for the fact that her mother is running for the office of Governor. When she becomes pregnant, her personal drama becomes a public spectacle. Neva's drama focuses on growth, family, and the cost of secrets we try to keep.

A Brief Primer on the Female of the Species by Julia Neva

Duo Interpretation

A professor and her graduate student walk the audience through the high and low moments in the history of the female of the human species. Marvel at the first time in history when a man stole a woman's great idea. See Joan of Arc outwit the French military leadership…and get burned at the stake! Finally, follow the Suffragettes as they fight for equality among genders—a fight that remains ongoing today. Neva's blend of outright humor and commentary will provide students with a wide-ranging performance that is sure to please audiences.

Lessons in Throwing Your Voice by Julia Neva

Duo Interpretation

Emily is surrounded by dummies. Emily's pregnant mother can't seem to get it through her head that Emily isn't coping well with their new situation. Count Dork-ula, her mother's new boyfriend, is as nerdy and absent-minded as they come. A kind gesture goes awry when Emily is given a ventriloquist's doll as a gift. Sassy Sally is more than a hunk of wood. The fake doll keeps it real with Emily about her mom's divorce, her new sibling that's on the way, and the other gripes at the front of her mind. This duo brings tremendous potential for a tech-stravaganza for two talented performers!

Swerve by Amanda Thompson

Duo Interpretation

Callie lost her boyfriend of three years in an automobile accident. Though she pretends all is well, her friends and family are worried that all is not as it seems. Emma, her best friend, is charged with the task of getting Callie to talk about the traumatic experience. Thompson serves a drama of trust and friends, of moving on when there's no other choice.

Thirty-Six Minutes by Jesse Gall

Duo Interpretation

When their mother must finally move into an assisted care facility, two sisters sort through the remnants of their mother's possessions. What remains is more than simple possessions. Tremendous resentment over life choices—the decision to stay or go—forces Kate and Deb to confront the decisions they have to make and those that were made long ago.

The New Girl by Julia Neva

Duo Interpretation

Kimmy Kilgore was one of the country's top young TV celebrities. After the cancellation of her show, she suffered a fate worse than death: being sent to public school. On her first day as "the new girl" she meets Sarah, who is also new to the school. Though they come from different worlds, the two girls help each other realize that no matter how great our differences are, the commonalities we share mean we are never alone.

Go On, Girl! by Rebecca Spero Duo Interpretation (Female/Female)

Carolyn and Jill have had enough. After years of serving as dutiful housewives, they decide to pack up, empty their savings accounts, and pursue their dreams. Inspired by their experiences, they create a stage show called "Go On, Girl!" Things start out great but quickly turn sour as they trade one brand of relationship abuse for another.

Tips by Julia Neva Duo Interpretation (Female/Female)

One of the most thankless jobs on earth is to serve as a waiter or waitress at a chain restaurant. On her first day at work, Susan meets a variety of the worst customers imaginable. The good news is that she also meets a person who knows what it's like to be in her shoes. Fast-paced with plenty of room for physicality, this is a great starter piece for a new performer.

Somewhere in Between by Meredith Allen Duo Interpretation (Female/Female)

Stacy's priorities are completely out of whack. Though she is a high-power attorney, Stacy has forgotten about the most important woman in her world: her month. When a bus accident sends her into the great beyond, God walks Stacy through her missteps and gives her the opportunity to make things right...before it's too late for herself or her mom.

Room to Wait by Rebecca Spero Duo Interpretation (Female/Female)

Cathy and Samantha have the kind of step-mother/daughter relationship reminiscent of classic fairytales. (Hint: it's not very good.) While in a hospital waiting room to learn the fate of the man who connects them, they realize that life-changing experiences bring the opportunity to set things right.

The Sisters Smith by Laura Morris Duo Interpretation (Female/Female)

Step-sisters Taylor and Annie started out as best friends. As they each became teenagers, jealous and spite tore them apart. A tragic accident brings them back together and forces Taylor to imagine what a world would be like in which they stayed as close as they once were.
LIKE FALLING LEAVES by Stephanie Alderdice (Duo Interpretation) Female/Female
One of the deadliest industrial accidents in U.S. history, the Triangle Shirtwaist Factory fire claimed the lives of 146 garment workers on March 25, 1911 in New York City. Located on the 8th, 9th, and 10th floors of the building, the managers had begun locking doors to the stairwells and exits to prevent workers from stealing items or taking unnecessary breaks. When a scrap bin on the 8th caught fire, workers on the three floors were trapped with little option for escape. Kate Leone and Sara Maltese, both 14 years old, were the youngest workers in the building. LIKE FALLING LEAVES blends history and fiction to glimpse into the tragedy that paved the way for worker's rights in America.
DOTTED LINES by Sarah Carpenter (Duo Interpretation) Female/Female
In December of 2013, Belgium made international news as it became the first country to allow euthanasia for children and teens suffering from terminal illnesses. Senator and bill sponsor, Philippe Mahoux, asserted for young patients faced with "constant and unbearable physical suffering," the legalization of euthanasia would be "ultimate gesture of humanity." Though fifteen-year-old Sophie has spent her entire life in the pediatric oncology ward, it hasn't dulled her incredibly sharp wit. In DOTTED LINES, she sets out to convince her beloved nurse Karen that she should be the one to decide her next course of treatment. The script is equal parts humor and heartbreak, proving that there are no easy answers in this heated debate.
THE 25TH ANNUAL LITTLE MISS MOMMY AND ME PAGEANT: A MOCKUMENTARY by Sarah Carpenter (Duo Interpretation) Female/Female
A film crew has set out to document the colorful world of mother/daughter beauty pageants. Whether Teena and P.B. are the brightest stars is yet to be determined. Teena, all glitz and glamor but with a competitive streak, grew up winning pageants with her mother and is anxious to carry on the legacy with P.B. P.B. is off-beat and often off-balance as she tries to navigate the hair-dos and don'ts of pageant life. THE 25TH ANNUAL LITTLE MISS MOMMY AND ME PAGEANT: A MOCKUMENTARY is a hilarious script that revels in mother/daughter mishaps and wonders whether family traditions always result in family bonding.
TOTES SHAKESPEARE! by Paul Owen (Duo Interpretation) Female/Female
Kirsten and Lisa are best friends who have their priorities laid out in front of them. Studying Shakespeare, however, is not one of them. In the midst of prom-drama, Kirsten and Lisa need to ace their dramatic scene from "As You Like It" in order to get an "A" in the class. Real life continues to interrupt the scene, as tension mounts between the "practically sisters" when differences of opinion turn into major disagreements. Through the use of William Shakespeare's words, the two slowly come to make amends. Filled with laughs, energy, and -of course- drama, TOTES SHAKESPEARE! is a great selection for female performers who share a charming chemistry on-stage.
GENERATIONAL by Paul Owen (Duo Interpretation) Female/Female
Katie has hit a rough point in her life. Fresh off (another) break-up with her on-again off-again boyfriend, her phone is literally vibrating texts regarding the drama, and her stepmother isn't terribly supportive. Her isolation is heightened by the absence of her biological mother who was killed in a car accident shortly after Katie was born. Through a series of visualizations, Katie's mother and grandmother appear to give her comfort and guidance. In Paul Owen's GENERATIONAL, three generations of women band together to show that love can be felt beyond life, and life lessons can be learned no matter the age.
DANCE MAMAS
by Clint Snyder
In this zany parody of the popular reality television show dance moms, Tabby Z and Mama bicker and battle over the exploitation of young dancers.
MANIC-CURE
by Clint SnyderAfter meeting one of the dumbest patients she has ever met a young doctor begins to rethink her career.
GLADYS HAS LEFT THE BUILDING
by Greg Moeller
Mavis and Lurleen have a problem...Lurleen has stolen the casket of Elvis Presley from Graceland, because she heard a rumor that Priscilla Presley wants to turn Graceland into a theme park.  Now they have to get it back to Graceland...but how?

BAD COACH
by Clint Snyder
The worst acting coach in the world is on the rampage and after coming across fresh meat she has one of her most brilliant revelations yet.
SELLING THE FARM
by Clint Snyder
After pushing her way into Vivianne's family farm with a pair of steel-toed boots, one vacuum saleswoman will stop at nothing to close the sale on a zany unsuspecting recluse.
Related products