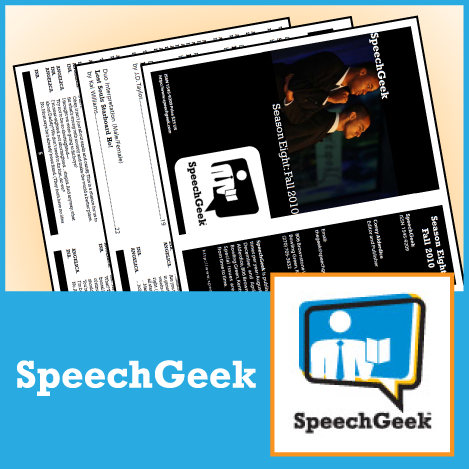 SpeechGeek Presents: Female/Female Duos, Vol. 2
By SpeechGeek
Quality forensics performance material is often difficult to find. SpeechGeek provides high school coaches and competitors with scripts that are not only challenging, but also of strong literary merit. Each issue of SpeechGeek contains five scripts in a variety of events: prose interpretation, poetry interpretation, humorous interpretation, dramatic interpretation, and duo interpretation. SpeechGeek's interp scripts are written by winning authors who know what it takes to make final rounds at all levels of competition.

A Brief Primer on the Female of the Species by Julia Neva

Duo Interpretation

A professor and her graduate student walk the audience through the high and low moments in the history of the female of the human species. Marvel at the first time in history when a man stole a woman's great idea. See Joan of Arc outwit the French military leadership…and get burned at the stake! Finally, follow the Suffragettes as they fight for equality among genders—a fight that remains ongoing today. Neva's blend of outright humor and commentary will provide students with a wide-ranging performance that is sure to please audiences.

Lessons in Throwing Your Voice by Julia Neva

Duo Interpretation

Emily is surrounded by dummies. Emily's pregnant mother can't seem to get it through her head that Emily isn't coping well with their new situation. Count Dork-ula, her mother's new boyfriend, is as nerdy and absent-minded as they come. A kind gesture goes awry when Emily is given a ventriloquist's doll as a gift. Sassy Sally is more than a hunk of wood. The fake doll keeps it real with Emily about her mom's divorce, her new sibling that's on the way, and the other gripes at the front of her mind. This duo brings tremendous potential for a tech-stravaganza for two talented performers!

Swerve by Amanda Thompson

Duo Interpretation

Callie lost her boyfriend of three years in an automobile accident. Though she pretends all is well, her friends and family are worried that all is not as it seems. Emma, her best friend, is charged with the task of getting Callie to talk about the traumatic experience. Thompson serves a drama of trust and friends, of moving on when there's no other choice.

Thirty-Six Minutes by Jesse Gall

Duo Interpretation

When their mother must finally move into an assisted care facility, two sisters sort through the remnants of their mother's possessions. What remains is more than simple possessions. Tremendous resentment over life choices—the decision to stay or go—forces Kate and Deb to confront the decisions they have to make and those that were made long ago.

The New Girl by Julia Neva

Duo Interpretation

Kimmy Kilgore was one of the country's top young TV celebrities. After the cancellation of her show, she suffered a fate worse than death: being sent to public school. On her first day as "the new girl" she meets Sarah, who is also new to the school. Though they come from different worlds, the two girls help each other realize that no matter how great our differences are, the commonalities we share mean we are never alone.
Related products