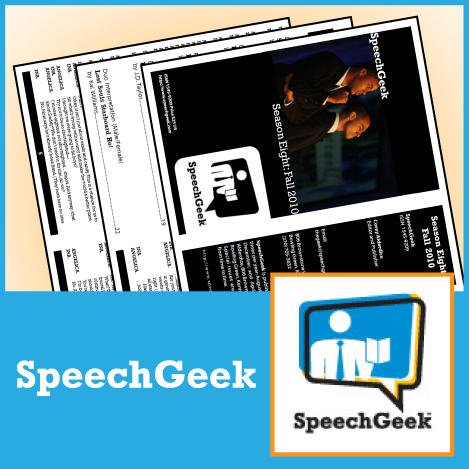 SpeechGeek Presents: Female/Female Duos, Vol. 4
By SpeechGeek
Quality forensics performance material is often difficult to find. SpeechGeek provides high school coaches and competitors with scripts that are not only challenging, but also of strong literary merit. Each issue of SpeechGeek contains five scripts in a variety of events: prose interpretation, poetry interpretation, humorous interpretation, dramatic interpretation, and duo interpretation. SpeechGeek's interp scripts are written by winning authors who know what it takes to make final rounds at all levels of competition.
SPEECHGEEK PRESENTS: FEMALE/FEMALE DUOS, VOL. 4
ISBN: 978-1-61387-047-1

LIKE FALLING LEAVES by Stephanie Alderdice
(Duo Interpretation) Female/Female
One of the deadliest industrial accidents in U.S. history, the Triangle Shirtwaist Factory fire claimed the lives of 146 garment workers on March 25, 1911 in New York City. Located on the 8th, 9th, and 10th floors of the building, the managers had begun locking doors to the stairwells and exits to prevent workers from stealing items or taking unnecessary breaks. When a scrap bin on the 8th caught fire, workers on the three floors were trapped with little option for escape. Kate Leone and Sara Maltese, both 14 years old, were the youngest workers in the building. LIKE FALLING LEAVES blends history and fiction to glimpse into the tragedy that paved the way for worker's rights in America.
DOTTED LINES by Sarah Carpenter
(Duo Interpretation) Female/Female
In December of 2013, Belgium made international news as it became the first country to allow euthanasia for children and teens suffering from terminal illnesses. Senator and bill sponsor, Philippe Mahoux, asserted for young patients faced with "constant and unbearable physical suffering," the legalization of euthanasia would be "ultimate gesture of humanity." Though fifteen-year-old Sophie has spent her entire life in the pediatric oncology ward, it hasn't dulled her incredibly sharp wit. In DOTTED LINES, she sets out to convince her beloved nurse Karen that she should be the one to decide her next course of treatment. The script is equal parts humor and heartbreak, proving that there are no easy answers in this heated debate.
THE 25TH ANNUAL LITTLE MISS MOMMY AND ME PAGEANT by Sarah Carpenter
(Duo Interpretation) Female/Female
A film crew has set out to document the colorful world of mother/daughter beauty pageants. Whether Teena and P.B. are the brightest stars is yet to be determined. Teena, all glitz and glamor but with a competitive streak, grew up winning pageants with her mother and is anxious to carry on the legacy with P.B. P.B. is off-beat and often off-balance as she tries to navigate the hair-dos and don'ts of pageant life. THE 25TH ANNUAL LITTLE MISS MOMMY AND ME PAGEANT is a hilarious script that revels in mother/daughter mishaps and wonders whether family traditions always result in family bonding.
TOTES SHAKESPEARE! by Paul Owen
(Duo Interpretation) Female/Female
Kirsten and Lisa are best friends who have their priorities laid out in front of them. Studying Shakespeare, however, is not one of them. In the midst of prom-drama, Kirsten and Lisa need to ace their dramatic scene from "As You Like It" in order to get an "A" in the class. Real life continues to interrupt the scene, as tension mounts between the "practically sisters" when differences of opinion turn into major disagreements. Through the use of William Shakespeare's words, the two slowly come to make amends. Filled with laughs, energy, and -of course- drama, TOTES SHAKESPEARE! is a great selection for female performers who share a charming chemistry on-stage.
GENERATIONAL by Paul Owen
(Duo Interpretation) Female/Female
Katie has hit a rough point in her life. Fresh off (another) break-up with her on-again off-again boyfriend, her phone is literally vibrating texts regarding the drama, and her stepmother isn't terribly supportive. Her isolation is heightened by the absence of her biological mother who was killed in a car accident shortly after Katie was born. Through a series of visualizations, Katie's mother and grandmother appear to give her comfort and guidance. In Paul Owen's GENERATIONAL, three generations of women band together to show that love can be felt beyond life, and life lessons can be learned no matter the age.
Related products