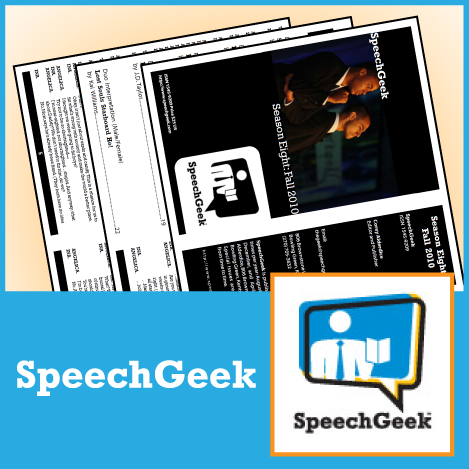 SpeechGeek Presents: Female/Female Duos, Vol. 5
By SpeechGeek
ISBN: 978-1-61387-076-1
We started our Female/Female Duos series because finding material for two female performers can be tricky. You know what's even trickier? Finding humorous material for two female performers. In Volume 5, we chased down the unicorns of funny female/female duos for all the budding comediennes of forensics.
DANCE MAMAS
by Clint Snyder
In this zany parody of the popular reality television show dance moms, Tabby Z and Mama bicker and battle over the exploitation of young dancers.
MANIC-CURE
by Clint SnyderAfter meeting one of the dumbest patients she has ever met a young doctor begins to rethink her career.
GLADYS HAS LEFT THE BUILDING
by Greg Moeller
Mavis and Lurleen have a problem...Lurleen has stolen the casket of Elvis Presley from Graceland, because she heard a rumor that Priscilla Presley wants to turn Graceland into a theme park.  Now they have to get it back to Graceland...but how?

BAD COACH
by Clint Snyder
The worst acting coach in the world is on the rampage and after coming across fresh meat she has one of her most brilliant revelations yet.
SELLING THE FARM
by Clint Snyder
After pushing her way into Vivianne's family farm with a pair of steel-toed boots, one vacuum saleswoman will stop at nothing to close the sale on a zany unsuspecting recluse.
SpeechGeek Presents: Female/Female Duos Vol. 5 -- PREVIEW
Related products