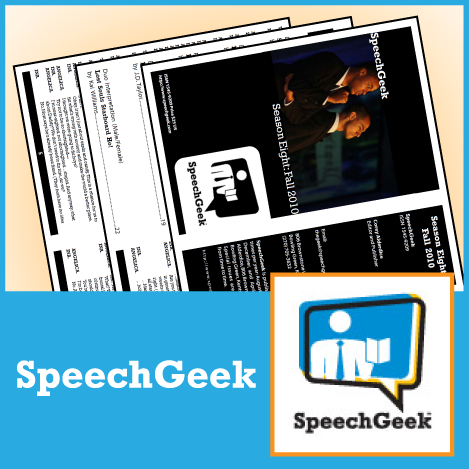 SpeechGeek Presents: H.I.-larious Combination Package
By SpeechGeek
Quality forensics performance material is often difficult to find. SpeechGeek provides high school coaches and competitors with scripts that are not only challenging, but also of strong literary merit. Each issue of SpeechGeek contains five scripts in a variety of events: prose interpretation, poetry interpretation, humorous interpretation, dramatic interpretation, and duo interpretation. SpeechGeek's interp scripts are written by winning authors who know what it takes to make final rounds at all levels of competition.
We are excited to present our newest collection of H.I.-larious scripts! Whether you're looking for an H.I. or a humorous duo, we have ten fresh and funny new scripts that give performers the opportunity to show off their characters and comedic timing. We're happy to introduce our newest author, Matt Mills, who is a forensics alum and was recently selected as a finalist in the 2013 Movie Bytes Comedy Screen Play Contest.
The SpeechGeek Presents: H.I.-larity Package contains three H.I.-larious volumes with the following scripts:

H.I.-LARIOUS VOLUME 1

NANCY BRINKMAN: ELEMENTARY SCHOOL SUPERHERO by Matt Mills
FOREST OF FRIENDSHIP by Matt Mills

SLUMBER PARTY LIVE by Matt Mills
THE LONELY GIRLS CLUB by Matt Mills
GARY THE UNICORN AND TINA THE MAN O'WAR RIVER DANCE THEIR WAY INTO THE HISTORY BOOKS by Matt Mills

H.I.-LARIOUS VOLUME 2

MY SISTER, GOTHZILLA by Matt Mills
BOYS WILL BE BOYS by Matt Mills
MOONRAKER FINDS A PROM DATE by Matt Mills
WALKIE-TALKIE BOB by Matt Mills
STUART THE COWARDLY COP by Matt Mills
H.I.-LARIOUS VOLUME 3
H.I.-LARIOUS VOLUME 3 IS AVAILABLE FOR PRE-ORDER AND WILL BE AVAILABLE LATE SUMMER 2014. YOU WILL RECEIVE A NOTIFICATION E-MAIL WHEN IT IS AVAILABLE FOR DOWNLOAD.
Related products