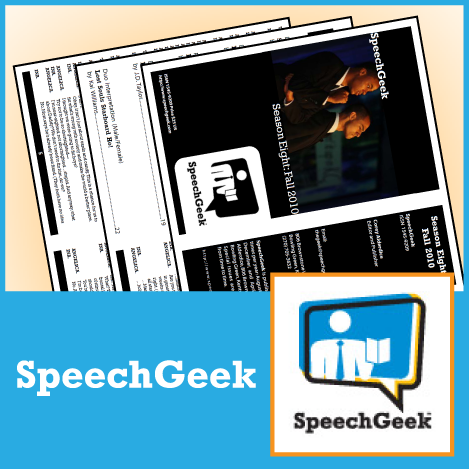 SpeechGeek Season Eight: Fall 2010
By SpeechGeek
Quality forensics performance material is often difficult to find. SpeechGeek provides high school coaches and competitors with scripts that are not only challenging, but also of strong literary merit. Each issue of SpeechGeek contains five scripts in a variety of events: prose interpretation, poetry interpretation, humorous interpretation, dramatic interpretation, and duo interpretation. SpeechGeek's interp scripts are written by winning authors who know what it takes to make final rounds at all levels of competition.
Science: No Boys Allowed by Jane Nicolaas 
Duo Interpretation (Female/Female)

Two sisters are on a quest to win the school science fair in this wacky comedy debut by Jane Nicolaas. Precocious youngster Ina takes her annoying younger sister Angelica along for the ride as the two explore the male of the species. Can they create the perfect boy?

Diamond Dreams by Jane Nicolaas 
Dramatic Interpretation

Miguel Santana is a young Dominican man who dreams of something more in life. His world is filled with poverty, yet his hopes are pinned on the one thing he knows he can do: throw a baseball. When an American agent comes into his life, Miguel may have finally found an avenue to save his family and provide them with a better life. Mr. Jack, though, sees only a better life for himself—and his bank account—in Miguel's talent. A story of dreams and aspirations that is sure to wow audiences.

Endangered Species by Jane Nicolaas 
Prose Interpretation

A college student accompanies his girlfriend to a doctor's visit he wish he didn't have to attend. Despite being in love, they are not ready to see through an unplanned pregnancy. It's an uncomfortable situation to say the least: "The woman stares at me. I guess that's the wrong thing to do? I don't know. I guess I forgot my abortion etiquette handbook: What to Expect When You're about to Stop Expecting." In a room of women who expect him to be the bad guy, he demonstrates that timing is everything and nothing at all.

Prima Ballerina by J.D. Taylor 
Dramatic Interpretation

Athena Pallas may now be an old, bitter dance instructor, but she was once one of Europe's most gifted ballerinas. As the Hitler's reach extends across Europe, the young dancer rises to stardom. When they are invited by Hitler himself for a performance, she is faced with an amazing opportunity and a terrible decision. She learns that fear is a powerful motivator and inaction can lead to a lifetime of regret.

Lost Souls Starboard Ho! 
Duo Interpretation (Male/Female)

Shawn and Lynn have suffered the loss of their daughter. In this emotional drama, the couple must come to terms with their loss while bridging the growing distance in their relationship. Will this crisis cause even more loss, or will they find a way to move on and love again?
Related products