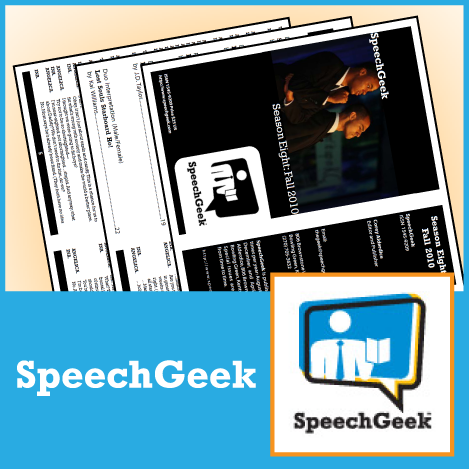 SpeechGeek Season Eight: Winter 2011
By SpeechGeek
Quality forensics performance material is often difficult to find. SpeechGeek provides high school coaches and competitors with scripts that are not only challenging, but also of strong literary merit. Each issue of SpeechGeek contains five scripts in a variety of events: prose interpretation, poetry interpretation, humorous interpretation, dramatic interpretation, and duo interpretation. SpeechGeek's interp scripts are written by winning authors who know what it takes to make final rounds at all levels of competition.

Hypothetically Yours by Katie Newport 
Duo Interpretation (Male/Male)

Brian comes to his best friend Jeremy for advice about the best way to propose to his longtime girlfriend. The two work through a variety of hypothetical situations in which the proposal could go right…but they each go horribly wrong. There's lot of room for physicality and humor in this introductory offering from Katie Newport.

Chasing Snowflakes by Katie Newport 
Duo Interpretation (Male/Female)

A snowy evening force Michael and Anna, two young people in love, to reflect on their first date. It turns out that their relationship almost never happened. Through a series of misunderstandings, Michael begins to wonder why they are even still together. A snowy evening brought them together, but it may bring an end to their love, too.

How to Do Nothing Successfully by Clint Snyder 
Humorous Interpretation

Mall-Mart's all-start team leader Ricky introduces a new crop of employees to the practices that ensure Mall-Mart employees are top notch. It's too bad that Ricky is an undercover spy for Jay Mart.

For My Baby by Beatrice Pickens 
Dramatic Interpretation

Picken's short duet follows a young couple through various stages in their life and relationship. Stopping in at ages eight, sixteen, and twenty-five, the story explores the growth of their twisted relationship from infatuation, to control, to new life, and death.

Reggie Wilson: Boy Detective by Christopher Rife 
Humorous Interpretation

Reggie Wilson is Apple Valley's greatest boy detective. Reggie's only problem is that he doesn't have a clue. A wild cast of characters follow Reggie as he attempts to determine if their teacher is a robot! (Hint: He is!) Goofs and gags are aplenty an HI that is sure to please audiences.
SpeechGeek Season Eight: Winter 2011 Preview
Related products