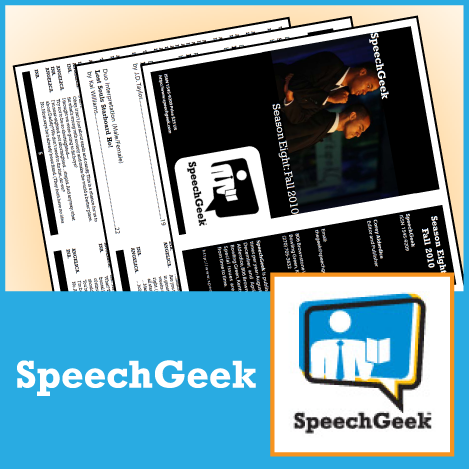 SpeechGeek Season Eleven: Nationals 2014
By SpeechGeek
Quality forensics performance material is often difficult to find. SpeechGeek provides high school coaches and competitors with scripts that are not only challenging, but also of strong literary merit. Each issue of SpeechGeek contains five scripts in a variety of events: prose interpretation, poetry interpretation, humorous interpretation, dramatic interpretation, and duo interpretation. SpeechGeek's interp scripts are written by winning authors who know what it takes to make final rounds at all levels of competition.
Season Eleven: Nationals 2014 is comprised of short stories (prose) and our "program builders" (multiple poems on a particular theme). Whether you're looking for literature for supplemental events at the National Speech and Debate Association National Tournament, competition at the University Interscholastic League competitions in Texas, or any tournament that offers Prose or Poetry, you'll definitely want to check this issue out! We've marked the price down from our regular issues: $15 for the digital copy and $20 for the print.


PRINT ISBN: 978-1-61387-060-0

SpeechGeek Season Eleven: Nationals 2014

HOLDING BACK
by Isabelle Owens
Prose (Female)
"It is Tuesday afternoon and my mind-reading skills are on the fritz again." Teaching a class filled with kindergarteners is already an adventure. Maintaining order while trying to anticipate the needs of a special student with autism is an added challenge. A story about frustration, hope, and patience, HOLDING BACK reveals the courage needed to embark on a journey that is different than what is expected.
THE "F-WORD": POEMS ON WHY WE STILL NEED FEMINISM IN THE NEW MILLENNIUM
by Julia Neva and Sarah Carpenter
Poetry (Female)
It has nearly been one hundred years since the Suffragists campaigned for women's right to vote and fifty years since the Feminist Movement fought for equality between the sexes. In the time since, women have continued to be pioneers in politics, science, the arts, while still maintaining the option to work from home. This has led many young Americans to believe that Feminism is both outdated and irrelevant. In the poems, TO THE GUY WHO SAID HE SUPPORTED GENDER EQUALITY BUT WOULDN'T CALL HIMSELF A FEMINIST, THE FRIEND-ZONE, and YES, WE STILL NEED FEMINISM, poets Julia Neva and Sarah Carpenter reveal the subtle problems preventing true gender equality in the new millennium.
LOST
by Jonathon Harper
Prose (Male)
It is the end of a long shift at the grocery store and there's one employee who just wants to finish his job so he can go home. That's when he stumbles upon an unusual scene: a disheveled and disoriented man is sitting on the floor with a half dozen opened bottles of laundry detergent surrounding him. "Smell this," the man orders, and our narrator is left to deal with a bizarre and uncomfortable confrontation. As the shift progresses, though, LOST reveals that appearances can be deceiving and acts of kindness can make heroes out of ordinary people.

FROM EMMETT TILL TO TRAYVON MARTIN: A POETRY PROGRAM ON BIAS AND AGGRESSION
by J.R. Loughton and Marcus Prince
Poetry (Male)
Few U.S. court cases in recent history have ignited controversy in the same way as George Zimmerman's trial for the murder of Trayvon Martin. The media painted conflicting portraits of Zimmerman and Martin, and the resulting 'not guilty' verdict left many to feel that racial bias was responsible for a lack of justice. Through a series of persona poems, J.R. Loughton gives voice to two victims whose lives and untimely deaths sparked outrage in the heart of many Americans: Trayvon Martin and Emmett Till. Poet Marcus Prince explores the consequences of respectability politics that fuel the fear of young men like Martin and Till in his fiery poem, ON OBEDIENCE. Together, the poems craft a passionate and important argument about the fear and anger facing young men in America.
THE ISLAND OF MISFIT BOYS
by Sarah Carpenter
Prose (Female)

The story opens with a fist, a face, and blood. It jumps back to the moment when the daughter of tech developer discovers that the purchase of her father's company has made the family incredibly wealthy. Rather than spending money on flashy cars and clothes, her parents decide to invest in a group home and take care of the seven foster boys residing there. Her world quickly turns upside down, as the rest of the town reacts to "the hippy-dippy, white as snow, newfound billionaires...fostering seven at-risk boys of different racial and ethnic backgrounds." THE ISLAND OF MISFIT BOYS embarks on the narrator's journey to understanding what it means to be a family and the courage necessary for strength of character.
Related products