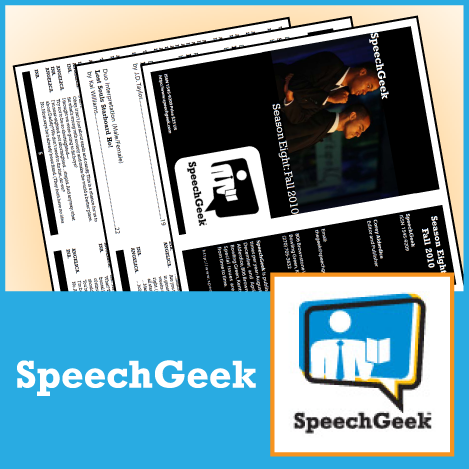 SpeechGeek Season Five: Anniversary 2008
By SpeechGeek
Quality forensics performance material is often difficult to find. SpeechGeek provides high school coaches and competitors with scripts that are not only challenging, but also of strong literary merit. Each issue of SpeechGeek contains five scripts in a variety of events: prose interpretation, poetry interpretation, humorous interpretation, dramatic interpretation, and duo interpretation. SpeechGeek's interp scripts are written by winning authors who know what it takes to make final rounds at all levels of competition.
Pinnochiante by Allen Harris
Humorous Interpretation
Everyone knows the story of Pinocchio, right? Author Allen Harris provides a muy caliente spin on a fairy tale classic that provides a modern sensibility with a hint of sarcasm. Okay, more than just a hint.
The Crayon Map by Oliver Leslie and Christopher Marianetti
Dramatic Interpretation
People deal with loss in different ways. Some folks turn to rationalization, while others resort to pure escapism to cope with life and loss. This dramatic interpretation spins out of reality into a fantasy word of possibility that provides hope for Aaron as he deals with the loss of his younger sibling. An exciting selection that combines heart and humor with hope and loss!
Ahidjo by Christopher Marianetti and Cormac Copperhead
Humorous Interpretation
Its often said that given enough time we will eventually become our parents. In the short term, that seems like an impossibility. For Jacub, that impossibility becomes a reality as a magic flower transports him back in time to live the life of his relatives. Through his experiences he becomes more appreciative of the lives of his ancestors and earns a better appreciation of what it takes to be a father and a son.
Rodger Dodger by Lindsey Marquette
Dramatic Interpretation
When most kids want a dog, they beg until their parents give in. Some folks, like Abby, just steal one and hope no one else notices. This delightful script provides a look at the lessons learned from both getting and owning a pet. A great script for middle school students that will charm audiences.
Inspired by a True Story by William Ruff
Dramatic Interpretation
Hollywood has told the tale of Jake, an exceptional young man with a story that has caused millions to fall in love with him. The only problem is that the Jake on screen isn't the person in real life. Even though Jake has a learning disability, he has high hopes for his own success and chance at stardom. When his dream falters, it forces him to examine the differences between the uplifting story on screen and disappointment from missed opportunities.
SpeechGeek Season Five: Anniversary Preview
Related products