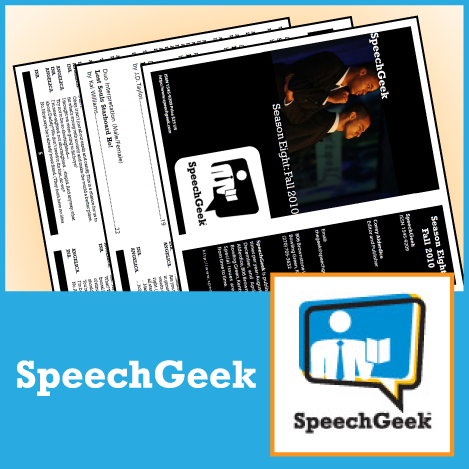 SpeechGeek Season Five: Fall 2007
By SpeechGeek
Quality forensics performance material is often difficult to find. SpeechGeek provides high school coaches and competitors with scripts that are not only challenging, but also of strong literary merit. Each issue of SpeechGeek contains five scripts in a variety of events: prose interpretation, poetry interpretation, humorous interpretation, dramatic interpretation, and duo interpretation. SpeechGeek's interp scripts are written by winning authors who know what it takes to make final rounds at all levels of competition.

The Queen of Hearts By Jane Winston

Dramatic Interpretation

Charley is in her forties and works as a card dealer in a casino. In this observational drama she watches as the players at her table—some new and others who frequent the casino—seek out luck and fortune. It's her job to be involved but not too close to the action—a lesson that translates to her life outside of work.

L.gAy.P.D. By Frank Joseph

Humorous Interpretation

Newcomer Frank Joseph delivers a fast-paced comedy that is sure to excite audiences. When beat cop Roger suspects his daughter is dating a boy who is gay, he'll stop at nothing to force Adam out of the closet, though the homophobic cop may end up behind bars in the process.

Coming Up Short: The Seven Dwarves' Monologues By Ellen McKinney and Tracy Cohen

Dramatic Interpretation

McKinney and Cohen combine for a unique take on the often storybook narrative of Snow White. Told from the perspectives of the dwarves who befriended her, the so-called facts you know about her story could be just that. A fulfilling morality play that demonstrates "happily ever after" may be the greatest fiction of all.

The King of Nerd Camp By Corey Alderdice

Prose Interpretation

Alderdice delivers a sincere memoir about his time working with gifted students. With humor and humility, he explores the world of Nerd Camp and the kid who became the king of it all. The endearing prose shows that the awkwardness of one's teenage years never really goes away, but you can grow out of it.

The Life and Times of Morgan Le Faye By Saeed Jones

Poetry Interpretation – Program Builder

Arthurian legends often focus on the masculine characters: Arthur, Lancelot, Merlin, and the like. However, little is said of the mysterious Morgan Le Faye. Jones excels in rich poetics that serve as the foundation of a program on the discussion of the place of female characters in male-driven mythologies.
Related products