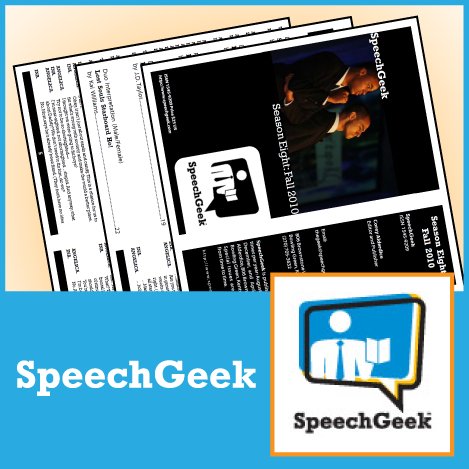 SpeechGeek Season Five: Nationals 2008
By SpeechGeek
Quality forensics performance material is often difficult to find. SpeechGeek provides high school coaches and competitors with scripts that are not only challenging, but also of strong literary merit. Each issue of SpeechGeek contains five scripts in a variety of events: prose interpretation, poetry interpretation, humorous interpretation, dramatic interpretation, and duo interpretation. SpeechGeek's interp scripts are written by winning authors who know what it takes to make final rounds at all levels of competition.

Mixed Up by Meredith Stein

Prose Interpretation

Growing up in a family of a mixed marriage often presents social and emotional challenges. When the budding relationship between a teenage girl and her best friend Marcus takes a romantic turn, mother neither accepts nor approves of the young couple. This selection suitable for middle and high school competitors explores race, relationships, and the double standards we often create.

Could've Been Worse by Trevor Anders

Prose Interpretation

Everyone's had a bad first date. Turns out that some folks have a lot of them. This quirky selection steers a young man through a bad first date and the ensuing aftermath. The good news is that he has a best friend who lets him know it could have been worse.

Cutting Cords by Trevor Anders

Prose Interpretation

Two brothers separated by an ocean attempt to mend their broken relationship on the elder's wedding day. This selection explores the emotions and experiences that connect twins while showing just how difficult—and sometimes forgiving—siblings can be.

Growing Up Girl by Julia Nava


Poetry Interpretation


It isn't easy growing up as a girl in America. Between trying to make the grade, win the game, and get the friends, girls are faced with an oppressive pressure to achieve perfection. By examining the struggle to be herself, we are able to empathize with what modern girls face on the path to adulthood.

Memory Drive by Michael Hix and Will Schuster

Poetry Interpretation

Human beings are driven by memory--either the need to rely on it for day to day activities or to shape their personal history and identity. So what happens when our memory fails us ("Malfunction") or is incomplete ("Ghosts").


Related products