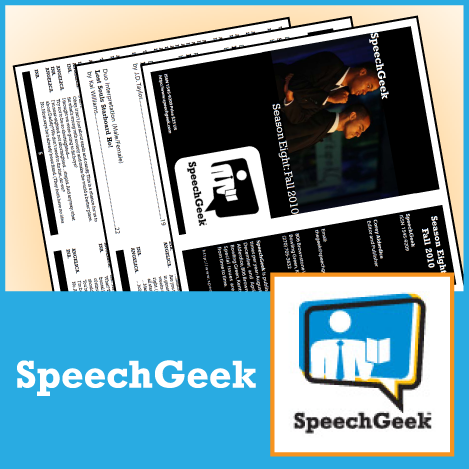 SpeechGeek Season Five: Spring 2008
By SpeechGeek
Quality forensics performance material is often difficult to find. SpeechGeek provides high school coaches and competitors with scripts that are not only challenging, but also of strong literary merit. Each issue of SpeechGeek contains five scripts in a variety of events: prose interpretation, poetry interpretation, humorous interpretation, dramatic interpretation, and duo interpretation. SpeechGeek's interp scripts are written by winning authors who know what it takes to make final rounds at all levels of competition.

Grace by Jodie Anderson

Duo Interpretation

In her short drama, Grace, playwright Jodie Anderson tackles the weighty issues of age and maternity for two female performers. Janice is a 37 year-old woman who is struggling to conceive while Christy is a 17 year-old high school student who discovers that she's got a growing problem to deal with. When the two women meet in a doctor's office, they find themselves in a complicated relationship that challenges who they are and how they want their lives to be.

Firm Foundation by Lillian White

Duo Interpretation

Putting together their lives after the devastation of Hurricane Katrina, Paul and Michelle realize the major repairs that are necessary for their marriage to survive the aftermath. White's thoughtful characters and compelling story make this a great male/female duo.

Tension at Home by Saeed Jones

Poetry Interpretation Program Builder

Author Saeed Jones examines his own family tensions in three poems that make a perfect foundation for a poetry program. Often feeling isolated from the rest of his family and heritage, Jones reflects on his own identity and how he came to be so different from those around him. Program builders allow performers of poetry the opportunity to customize their program by adding additional poetry to make their performance even more unique in competition.

Sleepwalking Home by Saeed Jones

Dramatic Interpretation

Getting away from home to ease both familial and personal burdens, the narrator of this monologue embarks on a journey through the woods and self. While away, he learns the world he once new could be gone forever, though he cannot reach his family to find out for sure. This monologue works well for both dramatic interpretation and solo acting events.

He Looked Like a Mortician by Corey Alderdice

Prose Interpretation

Leslie Lohman has important date to keep to date, she just doesn't know about it. When Death comes calling, Leslie's time is running out. Death, a neurotic and overworked employee of the Boss, senses there's something different about this encounter that may wind up changing Leslie's life for the better. Alderdice combines wit and situation to provide performers with a humorous prose that is sure to please audiences.


Related products