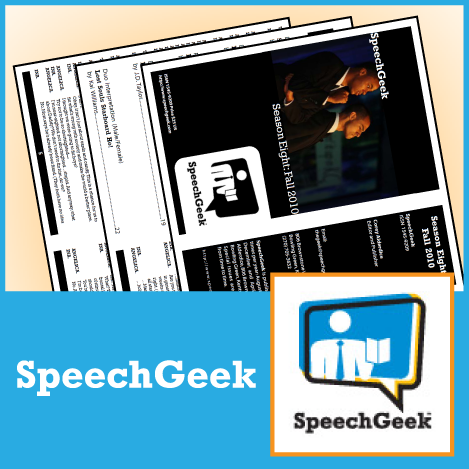 SpeechGeek Season Five: Winter 2008
By SpeechGeek
Quality forensics performance material is often difficult to find. SpeechGeek provides high school coaches and competitors with scripts that are not only challenging, but also of strong literary merit. Each issue of SpeechGeek contains five scripts in a variety of events: prose interpretation, poetry interpretation, humorous interpretation, dramatic interpretation, and duo interpretation. SpeechGeek's interp scripts are written by winning authors who know what it takes to make final rounds at all levels of competition.

The Remarkable Adventure of States the Obvious Girl By James Sweeney

Humorous Interpretation

When there's trouble around Remarkable Man is the hero to call. When he isn't available, you'll have to settle for his daughter States the Obvious Girl. This debut script by James Sweeney is a wild ride through the superhero genre with quips faster than speeding bullets. Can States the Obvious Girl defeat the evil Ambiguous Woman to save the day? Obviously.

Max and Cindy By James Sweeney

Duo Interpretation

From the first time Max and Cindy met each other, they knew a connection existed. Well, not at the very beginning because Max thought Cindy was a gross girl. Sweeney follows the couple through their lives together with endearing and lighthearted reflections. Told in the form of overlapping monologues, this selection can also be used as a HI.

The Godself Series By Bonny McDonald

Poetry Interpretation

Slam poet Bonny McDonald pays tribute the lower order of things by seeing the inherent goodness and power within. This selection of poems contains an energy and passion that is sure to wow audiences.

Argos By Elizabeth McCutcheon

Dramatic Interpretation

Dogs have often been referred to as a man's best friend; however, the same cannot always be said for women. Michael's father always said that people can disappoint you, but a pet never will. When his wife, from whom the story is told, makes a fatal decision, she quickly learns that some things are more irreplaceable than other.

Killing the Love By Saeed Jones

Duo Interpretation

When Stanley Tookie Williams was executed in 2005 for multiple crimes, his death sparked outrage across the country. Once known as the founder of the Crypts but later an advocate for child safety and Nobel Peace Prize candidate, he became an icon for redemption and second chances. As the larger drama of his execution unfolds, a young couple must deal with William's impending execution and the impact this event has on their own relationship.


Related products