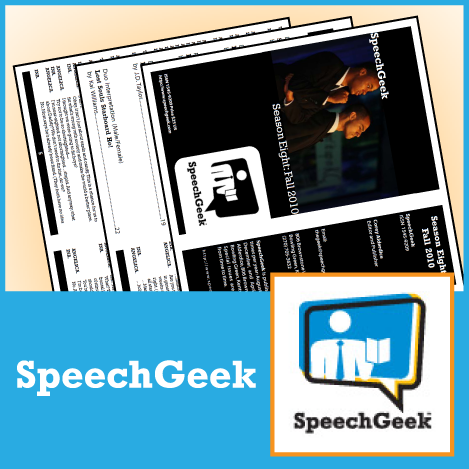 SpeechGeek Season Four: Fall 2006
By SpeechGeek
Quality forensics performance material is often difficult to find. SpeechGeek provides high school coaches and competitors with scripts that are not only challenging, but also of strong literary merit. Each issue of SpeechGeek contains five scripts in a variety of events: prose interpretation, poetry interpretation, humorous interpretation, dramatic interpretation, and duo interpretation. SpeechGeek's interp scripts are written by winning authors who know what it takes to make final rounds at all levels of competition.

The Birthday Wish By Shane Cole

Duo Interpretation

Marty and Laura are the kind of couple that makes people sick because, well, they're so perfect. On the celebration of Marty's birthday, thing begin to come apart when Laura insists on knowing what his birthday wish was. Superstitions are powerful forces in this powerful drama.

Whack Job By Courtney Wright

Duo Interpretation

Wright delivers another dark comedy that is right on in this new selection for performance. Dysfunctional couple Frank and Wanda couldn't get along even if their life depends on it. When he suspects Wanda of cheating on him with their mutual friend Frank, everything goes out the window. Fast and frenzied, this comedy ends more like a Greek tragedy.

Prairie Madness By Andrea Berthot

Dramatic Interpretation

When the prairie landscape is all that you can see, the person next to you becomes a source of consistency. As husband and wife travel into the unknown, they share the experiences that have made their once sure marriage as distant as the horizon ahead.

Evil By Andrea Berthot

Dramatic Interpretation

Berthot delivers a gripping drama of sexual abuse as a teenage girl shares the event that changed her life from possibilities to dark realities.

Secret Identities By Corey Alderdice

Prose Interpretation

Everyone has a secret identity—not just superheroes. Though teenager Ben Bridges wishes he could soar among the clouds and shoot laser beams from his eyes, he's stuck being an awkward nerd. Though he's not the only person with a secret in his school. When Ben is given the opportunity of a lifetime, he realizes the masks we wear aren't necessarily for heroics.


Related products