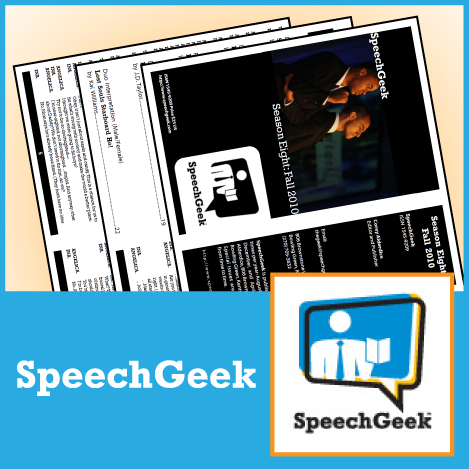 SpeechGeek Season Four: Spring 2007
By SpeechGeek
Quality forensics performance material is often difficult to find. SpeechGeek provides high school coaches and competitors with scripts that are not only challenging, but also of strong literary merit. Each issue of SpeechGeek contains five scripts in a variety of events: prose interpretation, poetry interpretation, humorous interpretation, dramatic interpretation, and duo interpretation. SpeechGeek's interp scripts are written by winning authors who know what it takes to make final rounds at all levels of competition.

Thrift By Daschle Stephens

Prose Interpretation

Growing up, Mark learned the wonders of being thrifty. However, meeting the girl of his dreams may wind up costing him everything. When she wants to only be friends, he learns that playing it safe can often be a costly mistake. An endearing story from breakout author Daschle Stephens.

Topaz By Paul Davis

Dramatic Interpretation

While searching for his dog, a young boy solicits help from those around him. In an innocent tone he shares with the audience the story of what happened to his previous dog, aptly named Dog. Davis creates a rich and true character that will shine in performance.

Past the Profundity By Stephanie Patterson

Poetry Interpretation – Program Builder

Teachers will tell you that poetry has to mean something deeper than what is on the page. Slam poet Stephanie Patterson explore the unnecessary need to put extra meaning into poetry and argues in a series of poems that what is at the surface is often more enriching than looking for hidden meaning. As a series or meshed with other poems, this Program Builder provides competitors with the tools for a great performance.

Schrodinger's Kiss By Bonnie Minkey

Duo Interpretation

When Beth and Greg and decide to participate in "Romantic Roomies," an academic study that places video cameras throughout the apartment of unmarried couples, they get more than they anticipate. The monitoring causes both of them to change—and not for the better. Is it all a performance, or are they finally being real?

Saving Face By Trevor Anders

Duo Interpretation

Mike sells cosmetics for a living and is pretty lousy at it. When he happens upon Suzie, an average-looking woman, a quick sells turns into something more. Anders delivers a comedic drama that demonstrates you can't always conceal a person's flaws with gloss and shine. There has to be something more underneath.


Related products