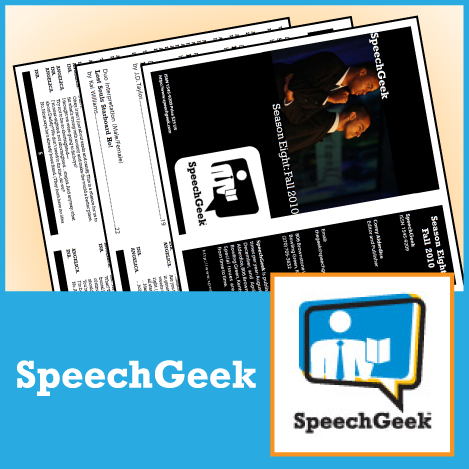 SpeechGeek Season Four: Winter 2007
By SpeechGeek
Quality forensics performance material is often difficult to find. SpeechGeek provides high school coaches and competitors with scripts that are not only challenging, but also of strong literary merit. Each issue of SpeechGeek contains five scripts in a variety of events: prose interpretation, poetry interpretation, humorous interpretation, dramatic interpretation, and duo interpretation. SpeechGeek's interp scripts are written by winning authors who know what it takes to make final rounds at all levels of competition.

Faux Real By Paul Davis

Duo Interpretation

What is reality TV anyway? When Billy is given the opportunity to participate in a new reality game show that trains people for the FBI, things go from bad to worse. This dark satire on what constitutes entertainment will both entertain and challenge audiences to examine what they watch.

The Man Who Loved Her By Paul Davis

Dramatic Interpretation

The fear of being alone can be overwhelming. The narrator of this absorbing monologue shares his feelings for his beloved and his fears of spending another day without her.

Trash Can Heart By Paul Davis

Dramatic Interpretation

"So you probably want to hear about the day all that messed up stuff happened," begins the narrator of this unique monologue. When tragedy strikes at a school, an unlikely hero finds himself reluctantly at the center of the drama.

The Music Teacher By Paul Davis

Dramatic or Duo Interpretation

Charlie hides a terrible secret from the world. Children are going missing around town, and Charlie knows where they are. In this shadowy drama, Davis explores a son desperate for the attention of his mother who will do anything to give her the child she always wanted.

Totally Sheltered By Bonnie Minkey

Dramatic Interpretation

Teenagers usually live a life sheltered from the rest of the world. No bills. No job. No worries. When Dalia is forced to volunteer at a homeless shelter, she begins to realize how clueless she is about other people and their needs. Minkey combines wit with an natural tone and voice to create a character and lesson that audiences will surely remember.


Related products