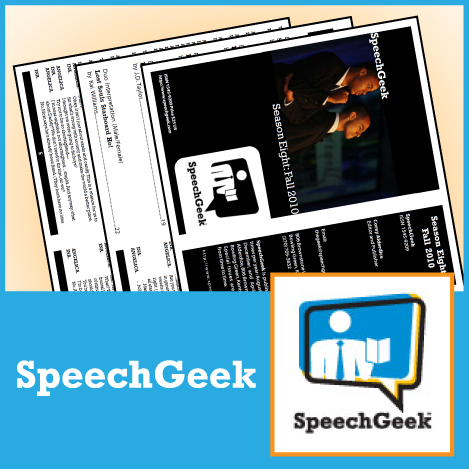 SpeechGeek Season Seven: Fall 2009
By SpeechGeek
Quality forensics performance material is often difficult to find. SpeechGeek provides high school coaches and competitors with scripts that are not only challenging, but also of strong literary merit. Each issue of SpeechGeek contains five scripts in a variety of events: prose interpretation, poetry interpretation, humorous interpretation, dramatic interpretation, and duo interpretation. SpeechGeek's interp scripts are written by winning authors who know what it takes to make final rounds at all levels of competition.
My Brother and I by Leanna Schwarch

Dramatic Interpretation

Twins share more than just parents. There is a deeper, special connection that binds them together. Schwarch's play follows the story of a brother and sister who, even in times of sickness and loss, maintain a special connection.

Skyrockets by J. D. Taylor

Dramatic Interpretation

In a world where all of your classmates parents are rocket scientists, it can be hard when your dad just plays one on TV. Taylor's story follows the story of a young man who, upon losing his father in an accident, does everything in his power to fulfill a special last request.

Star Child by Natalie Pronk

Dramatic Interpretation

"Stars shine and give off light and it takes all that time to get to us," so notes Andi, the autistic protagonist of Pronk's short play. Starlight—even over thousands of years—does not change. In the same way, Andi shares that even if they did, no one can tell by looking at them. You can't tell by looking at her, but she's changed. On the inside.

The Maids of Bovery Inn by Rodrigo Garcia

Duo Interpretation (Female/Female)

Few envy the life of a maid. They clean up other people's messes other people make while trying to keep everything tidy in their own world. In Garcia's short play, two immigrant maids share their frustrations of living behind the scenes, the messes they can't sweep away, and what it is like being a outside trying to make a better life. 
Confessions of a Preteen Sidekick by Deanna Markstrom

Humorous Interpretation

Elastic Lad has it all. He has super stretchy super powers that have earned him the job of Super Awesome Guy's sidekick. The only problem is that life as a tween tends to get in the way of superheroics. His mom asks questions. His dad needs him on time for dinner. Don't even get him started on homework. This delightful short play explores the reasons superheroes maintain a secret identity. It's not why you think.


Related products