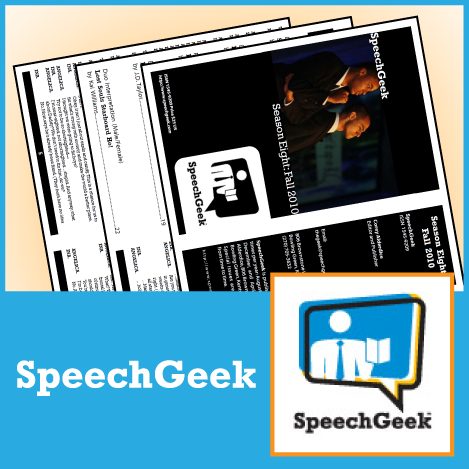 SpeechGeek Season Seven: Spring 2010
By SpeechGeek
Quality forensics performance material is often difficult to find. SpeechGeek provides high school coaches and competitors with scripts that are not only challenging, but also of strong literary merit. Each issue of SpeechGeek contains five scripts in a variety of events: prose interpretation, poetry interpretation, humorous interpretation, dramatic interpretation, and duo interpretation. SpeechGeek's interp scripts are written by winning authors who know what it takes to make final rounds at all levels of competition.
The Genetically Altered Book of Genesis by Connor McEvoy

Humorous Interpretation

It's been a busy week for the Lord. After creating the heavens and the earth, he moves on to his greatest project yet…man. The debut selection from Connor McElroy reexamines the creation story with a not-so-bright Adam, a sssssslithering serpent, and other wacky characters. A great selection for students who enjoy performing teched out pieces!

The Relationship by Doug McConnaha

Dramatic Interpretation (Male/Female)

McConnaha follows a couple through several stages of their lives together. The story begins on the playground and progresses as the two young lovers become married adults. With winks and nods to the audience, John and Nikki pass along the laughs and the frustrations of sharing your life with another person.

Ants by Clint Snyder

Dramatic Interpretation

A young summer camp counselor knows what it's like to feel insecure and need to please other people. Sam can see these traits in Clark, almost as a reflection, and hopes to find some peace by solving Clark's own problems because he is still too insecure to face his own. Snyder presents a monologue that shows that no choices are easy, especially when they are life changing. Is it better to step forward to save a life, or is it any of our business?

The Art of Theater by Doug McConnaha

Duo Interpretation

An acting class turns bizarre in this selection from Doug McConnaha. The artistic director of a private school reaches out to his students, and they reach back with enthusiasm. It's only too bad they're all terrible actors. This duo will provide both actors with room to perform and stretch their abilities.

The Conversation Zone by Doug McConnaha

Humorous Interpretation

Have you ever been caught in a conversation that never ends? A conversation that goes on and on and says nothing? Why do people have the need to tell you all the personal and intimate details of their lives? We're about to meet several people who all have "stories." Imagine yourself sitting on a plane, standing in a line, or trapped in a room with one of these people. Welcome to: The Conversation Zone.


Related products