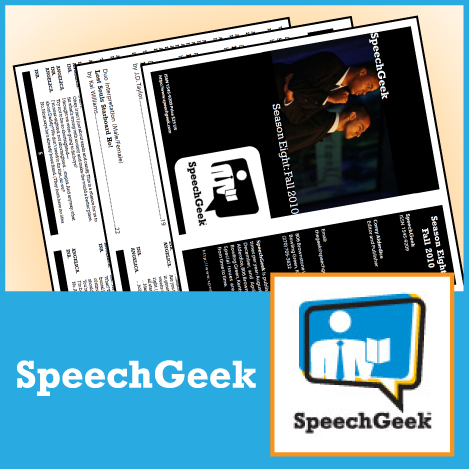 SpeechGeek Season Seven: Winter 2010
By SpeechGeek
Quality forensics performance material is often difficult to find. SpeechGeek provides high school coaches and competitors with scripts that are not only challenging, but also of strong literary merit. Each issue of SpeechGeek contains five scripts in a variety of events: prose interpretation, poetry interpretation, humorous interpretation, dramatic interpretation, and duo interpretation. SpeechGeek's interp scripts are written by winning authors who know what it takes to make final rounds at all levels of competition.
The Only Way I Know How by Sean Copelan

Dramatic Interpretation

Amanda a single mother doing the best she can. She is a rising professional who finds looking for love difficult due to her responsibilities with work and with her disabled son, Clay. A her blind date unfolds, she must balance the awkwardness of Clay's presence while trying to make a good first impression. This championship DI is ready for an excellence female competitor.

The Rules of the House by Ryan Harbinger

Dramatic Interpretation

Harbinger's drama reflects upon the life of John, an African-American former butler now in his eighties. Decades earlier, John and Evelyn, the lady of the house, became close in the constant absence of her husband. As friendship became something more, the clash of class and culture became apparent. John questions if love is worth fighting for? When the fight begins, however, what are the inevitable consequences?

Attempts at Being a Savior by Rachel Wiggington

Prose Interpretation

Bottled up emotions only lead to explosions, explains the narrator of Wiggington's short story. The narrator of the story realizes that sooner or later, you have to grow up. That often comes with "pulling up" or taking those inevitable steps that move oneself from the current phase of life to the next. When her sister needs her the most, she pulls enough for both of them despite being pushed away.

Things Forgotten by Rachel Wiggington

Duo Interpretation (Female/Male)

Rebecca suspects her daughter may be a victim of sexual abuse at the hands of her husband. Everyone else says her fears are irrational. She turns to therapy to keep from coming apart. Over the course of her conversations, we find that Rebecca was abused as a child by her brother and is projecting those fears at her husband. This complex and gripping story is sure to challenge performers.

The Prodigy by Richard Shelton

Prose Interpretation

The protagonist of Shelton's short story is the one of the most famous people on the internet. With a bone disorder limiting his abilities to act like a normal kid, he begins to play the cello. His stellar ability to craft and share music has drawn attention from far and wide. When the music stops, he must find a new rhythm to guide his life.


Related products