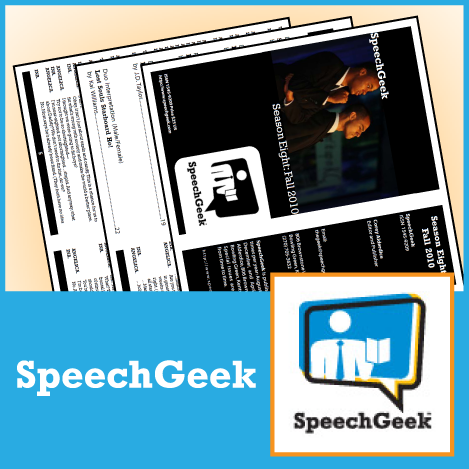 SpeechGeek Season Six: Fall 2008
By SpeechGeek
Quality forensics performance material is often difficult to find. SpeechGeek provides high school coaches and competitors with scripts that are not only challenging, but also of strong literary merit. Each issue of SpeechGeek contains five scripts in a variety of events: prose interpretation, poetry interpretation, humorous interpretation, dramatic interpretation, and duo interpretation. SpeechGeek's interp scripts are written by winning authors who know what it takes to make final rounds at all levels of competition.
Robin Hood by Natalie Pronk 
Duo Interpretation

The story of Robin Hood is one of the best known tales in the English language. He steals from the rich to selflessly give to the poor. A true hero, right? Pronk reexamines the mythos of Robin Hood through our contemporary skepticism of vigilantism and freedom fighters. One person's hero may, in fact, be another's villain.

EHarmonize by Natalie Pronk 
Duo Interpretation

Mike is unlucky in love. While he holds out for hope that true love really exists, his mother, beautiful women, television, and the rest of the world are out to convince him that true love is a hopeless pursuit. EHarmonize skewers all the things that desperate people do in search of love—the lowest of which is online dating.

The Apple Never Falls Far by Natalie Pronk 
Humorous Interpretation

Pronk tackles the creation story through this delightful take on Adam and Eve's first day. Adam's not happy that the "do-over" is hanging around the garden. Pronk's good-natured characters will charm audiences and judges alike.

The Toy Chest Chronicles by Natalie Pronk 
Humorous Interpretation

Tensions are running high in the toy store with a sale ahead. That's means bad news—someone is likely on the way to the clearance isle…or worse: the "Everything's A Buck" store. A great selection for middle school competitors or students or students wanting a squeaky clean selection!

The Smell of Lavender by Shane Cole 
Dramatic Interpretation

"How is it that we run into people that will change our lives just by being in the right place at the right time?" muses Danny. When he meets the girl of his dreams, his life—at last—seems complete. When that love is lost, though, it's a place and a time that keeps the memory of love alive.


Related products