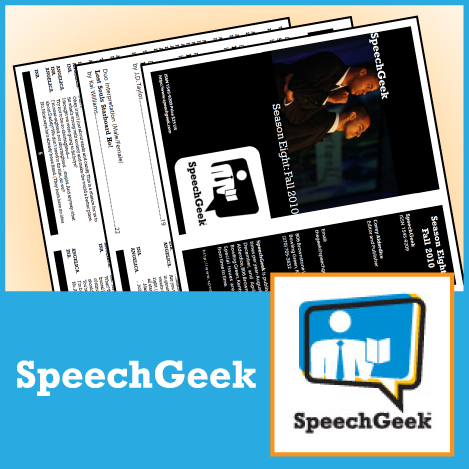 SpeechGeek Season Six: Winter 2009
By SpeechGeek
Quality forensics performance material is often difficult to find. SpeechGeek provides high school coaches and competitors with scripts that are not only challenging, but also of strong literary merit. Each issue of SpeechGeek contains five scripts in a variety of events: prose interpretation, poetry interpretation, humorous interpretation, dramatic interpretation, and duo interpretation. SpeechGeek's interp scripts are written by winning authors who know what it takes to make final rounds at all levels of competition.
Only Henchmen Get the Blues by Julia Nava
Duo Interpretation

What's a henchmen to do when he falls for a ravishing beauty? She's smart and funny. There's just one catch: she's secretly the boss' arch nemesis. Nava's return to SpeechGeek will keep audiences in stitches with super-heroics and super awkward situations.

Hitting the Bars by Deanna Markstrom
Dramatic Interpretation

There's a difference between being a winner and champion, but tell that to teenage gymnastics phenom of Markstrom's short play. She has the talent but what she lacks—like so many others who have age on their side but not wisdom—is perspective. It's only when her hopes and goals come to a grinding halt that she begins to realize what life is all about.

Moose Girl by James Sweeney
Dramatic Interpretation

Everyone has had that painfully awkward situation where they inquire about someone only to learn they are no longer among the living. Perhaps it was an illness or an accident. For Mindy, the fact that her brother was killed by a moose often receives a laugh from inquirers. The unfortunate fact is that she's not kidding. Sweeny's duo examines the absurdity of loss in this great selection.

My Name is Sandy Strouse by James Sweeney
Duo Interpretation

Sandy Strouse, an elderly woman with short-term memory loss, sits down for a chat with a reporter about her fantastic life experiences. The conversation fades between past and present as she remarks on her experience as a struggling actress. The question is how much of herself is she willing to give up for fame, and if she does, what will be left of her?

An Electron Tragedy by Jesse Gall
Poetry Interpretation

Gall's poem grapples with relationships and identity in a way that makes a strong thread for a poetry program.
Related products