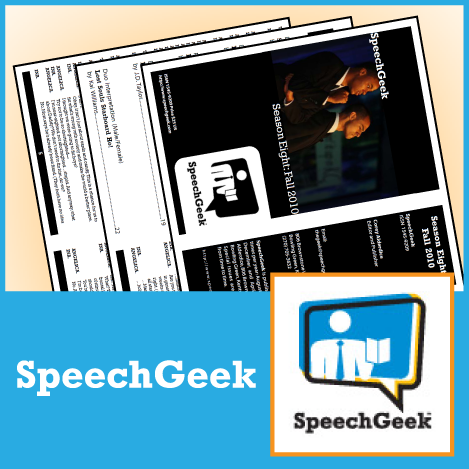 SpeechGeek Season Three: Fall 2005
By SpeechGeek
Quality forensics performance material is often difficult to find. SpeechGeek provides high school coaches and competitors with scripts that are not only challenging, but also of strong literary merit. Each issue of SpeechGeek contains five scripts in a variety of events: prose interpretation, poetry interpretation, humorous interpretation, dramatic interpretation, and duo interpretation. SpeechGeek's interp scripts are written by winning authors who know what it takes to make final rounds at all levels of competition.

Pipe Dreams: A Mockumentary By Andy Birge

Humorous Interpretation

Set in the form of a documentary, Birge explores the story of the 8-bit Mushroom Kingdom after Mario's victory over Bowser Koopa. Turning pixilated sprites into 3-dimensional characters leads to a satire of digital delight. When a new threat arises, will Mario be up to the challenge. Press start to continue.

Into a Specimen Box By Jacob Alcantar

Dramatic Interpretation

Alacantar's drama asks the audience to thing about the transitory relationships we have with others and the way those relationships are shaped by the boxes we are each placed in. Looking back on his life, The Professor narrates the events that have shaped his existence. By dissecting the piece through a series of monologues, performers will encounter a range of characters that are sure to present a rewarding performance challenge.

Take 43 By Colin Aldrige

Poetry Interpretation

This extended personae poem screens the life of a Geoff, a Hollywood director. Though capturing action on screen is his pleasure, creating the drama of his own life presents an even greater challenge. Though he can call "cut" on the set, he only gets one chance at living. A unique performance poem that is great on its own or as part of a larger program.

The General Salute By Matthew Gerbig and Jace Lux

Duo Interpretation

This award-winning play from Gerbig and Lux questions "How do you talk to a five year old about divorce." Divorce is often awkward for all parties involved. Though Luke and David both love their son, they each struggle with the notion of fatherhood and what that means to a son with two dads—one by birth and one through divorce.

My Other By Ingram Black and Dean Allen

Duo Interpretation

The last time Nick saw his brother Christopher, he went by the name Chris. After years apart, Nick returns to his brother's world to discover his brother is now his sister Christine. With their time together growing short, Christine seeks to reconcile with her brother and gain acceptance for the person she has now become.


Related products