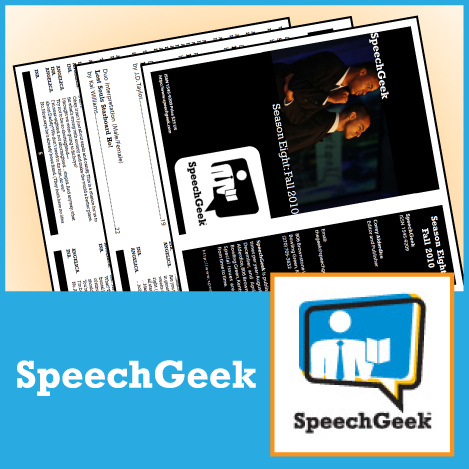 SpeechGeek Season Three: Winter 2006
By SpeechGeek
Quality forensics performance material is often difficult to find. SpeechGeek provides high school coaches and competitors with scripts that are not only challenging, but also of strong literary merit. Each issue of SpeechGeek contains five scripts in a variety of events: prose interpretation, poetry interpretation, humorous interpretation, dramatic interpretation, and duo interpretation. SpeechGeek's interp scripts are written by winning authors who know what it takes to make final rounds at all levels of competition.

Trevor and Travis By Odell Workman

Prose Interpretation

Though Travis and Trevor are twins, the only thing they ever really shared was a birthday. When the death of their grandmother brings them together once more, Trevor examines the life he left behind and the family to which he still belongs.

Hiding Behind the Humor By Courtney Wright, Christopher Ellis, and Jonnie Ray Delta

Poetry Interpretation – Program Builder

The life of a comedian is never easy. The funny man. The jokester. The sad clown. Though the people blessed with the gift of humor make the world laugh, they are often the ones who feel the deepest sadness. Wright, Ellis, and Delta explore the world of the comedians who wonder if they have experienced their last laugh.

God Walks the Dark Hills By Trevor Anders

Dramatic or Duo Interpretation

This religious selection explores the relationship of two young ministers who rely on God and each other in equal parts. When one of them discovers that God has limited his time on Earth, the resulting drama leads to a loss of faith and the loss of a friend. A gripping drama of faith and the familiar that is suitable for competition and part of worship services.

The Top of Number Ten By Wilman Suiter

Duo Interpretation

Jake always wanted the approval of his sister, though he never got it. Looking back now on their childhood, he confronts Sam about her absence and learns—to his surprise—that she was there all along.

Shotgun Blast to the Third Eye By Rubin Berstein

Duo Interpretation

In an homage to the comic of the same name, Berstein presents a tale of siblings who hide behind the death of their father through drugs, denial, and dark humor. A challenging performance awaits a mature performer in this exciting selection.


Related products